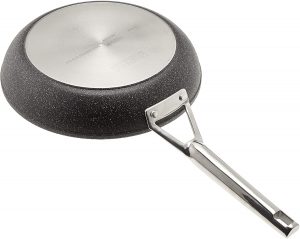 Monix Mineral Pans
The Spanish firm Monix has managed, over the last 60 years, to position itself as one of the best options in relation to quality / price. And these Monix Mineral pans represent the best of the brand.
Monix has always been characterized by wanting to do things differently, and that is why this Mineral model is totally different from what we can find in other brands. Both its finishes and its technologies are different.
And so hundreds and hundreds of followers of the brand have been gained. Among them the Chef with 7 Michelin stars Martín Berasategui, who recognizes the benefits of this specific model.
In this short video, Chef Berasategui shows us the qualities of this Monix Mineral frying pan and why it is different from any other frying pan.
VIDEO
MINERAL Monix
MATERIALS
To make the best frying pan, Monix has combined the best materials in each part of its structure to achieve an optimal balance.
Thus, the body of the Mineral de Monix model is made of non-deformable, resistant and really light cast aluminum . What they achieve with this material is to lighten the weight of the pan to the extreme, making it really manageable by everyone and with one hand.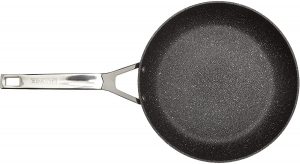 In addition, the Monix MetalTec technology is unique, through the impact technology of numerous steel balls they manage to give this model extreme resistance. We will discuss this in detail later.
The handle of the pan is made of heat-resistant stainless steel, and attached with two powerful rivets to the structure of the pan. The strength of the steel and the two rivets will make this pan last forever and the only moving part of the pan will never fail.
QUALITY BY FLAG
For its part, the base of the pan is made of stainless steel without points or crevices. With this they achieve total compatibility with all types of kitchens. They will work perfectly in induction, glass-ceramic, gas, electric cookers.
And the best thing is that this Monix Mineral frying pan is also compatible with the oven up to 220º C. It is possible to start a recipe in the glass ceramic cooker and finish it with a gratin by putting the pan directly into the oven.
Aesthetically, they have a truly spectacular stone finish. But it is not simply aesthetic, as we will see later, it is about pans with the precious mineral: Titanium. Therefore, that stone finish is not just about appearance, they are hard as a rock.

ANTI-ADHERENCE
To ensure this important aspect, Monix has developed for this Mineral model a non-stick surface that it has called Quantanium. This surface, of course, is developed without toxic compounds and is free of PFOAS.
Its non-stickness is guaranteed, we remember that we are facing the high range of the Monix firm and endorsed by the 7 Michelin stars Martín Berasategui. But just as important as having a good initial non-stick is that it is durable and does not deteriorate.
Therefore, without skimping on expenses or technology, Monix has coated this pan with the precious material: Titanium. This mineral coats the surface of the pan to ensure that neither the passage of time, nor heavy use nor metal utensils can damage its non-stick surface.
A great added advantage of its great non-stickiness is its ease of washing. Monix Mineral pans are suitable for intensive use in the dishwasher. However, we will rarely use it because cleaning them is as simple as putting them under the tap for a couple of seconds and passing them a napkin. Nothing sticks to these pans, so with a small jet of water, they will be impeccable.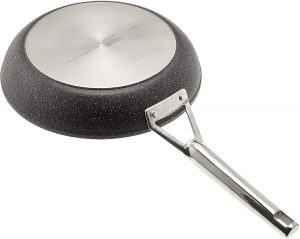 TECHNOLOGIES
This is where these pans make a difference to the rest:
MetalTec : This is the crown jewel of Monix technologies. MetalTec technology is a manufacturing process by which the base of the pan is subjected to the impact of small steel balls. The grooves created modify the structure and create a rough surface that gives additional resistance to the pan. The resulting rough-to-the-touch surface shows extraordinary scratch resistance.
Titanium : Combined with MetalTec technology, this rough surface is covered by another Titanium surface. This mineral gives the pan extreme resistance. At Monix they have been determined to make a durable and eternal frying pan and have spared no expense.
Diffuser base : Made of stainless steel, the diffuser base of the Monix Mineral frying pan is responsible for distributing the heat evenly over the entire surface of the pan. This ensures that both the center and the ends are at exactly the same temperature.
ECO + System : With the commitment to take care of health and the environment, Monix has implemented solutions that have earned them the ECO + seal. On the one hand, its extreme non-stickiness allows cooking with a single drop of oil, which will benefit our health. And on the other hand, the speed with which they acquire the temperature and the ability to retain it and finish the recipe with residual heat, will mean energy savings that will be reflected in our electricity bill.
ADVANTAGES OF MONIX MINERAL PANS
Their resistance and durability, the combination of MetalTec with Titanium, make them practically indestructible.
They are really light pans and it is very easy to use them with one hand.
The energy efficiency of the pans is excellent, they heat up very quickly and maintain the temperature for a long time.
DISADVANTAGES OF MONIX MINERAL PANS
Its price is higher than conventional pans.
It is not easy to find specialized establishments where to find them.
BETWEEN YOU AND ME
We are in front of some pans made on a whim by Monix. They are their high-end and as such they have taken care of even the smallest detail. It is not just about beautiful pans, they are also very practical and above all, very resistant pans .
It is in this section where the Mineral de Monix model has wanted to differentiate itself from the competition: in resistance and durability. With the rough surface thanks to MetalTec technology and its Titanium coating, they have managed to manufacture pans that will last for many years in perfect condition, even with the most intensive use possible.
GRILL MONIX MINERAL
CASSEROLES MONIX MINERAL
YOU MAY BE INTERESTED
If you like these pans but are on your budget and want to look at something a little cheaper, the Monix Cooper pans are somewhat cheaper. They are exceptional pans with all Mineral technologies (including Titanium), except MetalTec.
And finally, for a slightly higher price and a higher quality you can find Tefal Expertise pans . They are also aluminum pans with Titanium coating, with a somewhat different aesthetic and outstanding non-stickiness and resistance.