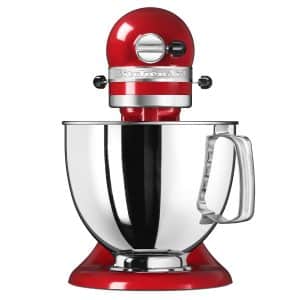 The KitchenAid Artisan kitchen robot is the perfect ally to prepare doughs and mixtures of all kinds in an efficient way and with perfect results. It is an efficient kitchen aid robot, clean, robust and resistant. It has 10 speeds, which make it possible to prepare both sweet and savory recipes, with minimal effort and always at the perfect mixing point. Designed with the aim that you enjoy high performance in any preparation, it has many accessories to make life easier in the kitchen regardless of the level of knowledge of each user.
Designed by the American company KitchenAid more than a century ago, kitchen machines were a groundbreaking novelty in their time. The brand has continued, over the years, with this line of mixers, preserving its original aerodynamic aesthetic. Some robots have even been exhibited in museums in the US for the beauty of their finishes.
In addition, and since always, KitchenAid has been able to prepare the simplest recipes, or the most sophisticated, with an efficiency of ten. The KitchenAid Artisan Kitchen Robot is a high-end robot, and one of the most popular and demanded on the market, especially by those who are more fond of high-level pastry chefs.
Ranking Top3 Best Kitchen Robots
Materials
The Kitchen Aid Artisan model is made with stainless steel and metal, making it a very robust and resistant robot, two of its main qualities. Its stainless steel accessories are non-stick.
Capacity and power
The bowl has a capacity of 4.8 liters, enough to knead, beat and mix large quantities, and a power of 300W, which includes an efficient transmission motor. This type of motor requires less power than other robots to achieve the same results in culinary preparations, thus providing effective energy savings.
Much more than a kneader
With the right utensils, the KitchenAid Artisan will be your best companion in the kitchen. See in this video all that he is capable of! Isn't it amazing?