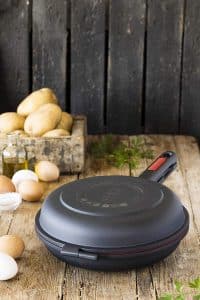 The pans are one of the kitchen utensils most used by everyone, no one conceives a kitchen without a frying pan. Now, how many of you have a pan capable of making a perfect omelette ? One of the options that we recommend is the BRA Dupla frying pan . If you want to know why we recommend it, stay and read the article!
The BRA line of pans is an already famous brand in the world of kitchenware. It is a brand that manufactures its products in Spain, with several decades of experience. Thanks to all those years of experience, its products have been improved and included the best technologies in the world of cooking. And this BRA Dupla frying pan is the maximum expression of all this: quality of materials, very practical technologies and a more than reasonable price.
Materials
The BRA Dupla frying pan is made of non-deformable cast aluminum. This material offers numerous advantages in the kitchen.
The first one is a highly resistant material . This means that the BRA Dupla frying pan is resistant to corrosion by water, high temperatures, shocks … Resistance is also provided by the 5.5 mm thick bottom. Thanks to this, the pan is compatible with all types of kitchens, and it is also compatible for washing in the dishwasher. In addition, although it is made of cast aluminum, it is not a heavy material: aluminum has as its main characteristic its lightness and easy handling.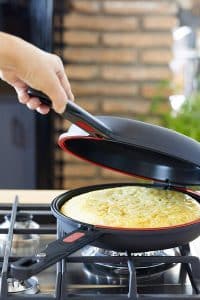 Aluminum is also a great conductor of heat. Thanks to this, you will not need a lot of energy to cook your dishes, because with a little heat, the pan will heat up quickly, and, in addition, it will keep the heat for longer, even with the heat source turned off. Of course, it is fully compatible with induction cookers.
The handle of the frying pan is made of a heat-resistant and ergonomic material . This ensures that the heat from the pan does not transfer to the handle, ensuring safe and easy handling of the utensil.
Non-stick
The non-stickiness of kitchen products is a fundamental part. It is important that it is a surface free of toxins that can be transferred to food, and that it is not easily damaged. Most pans already include these features.
The non-stick coating of the BRA Dupla frying pan is composed of a layer of Teflon Classic. This material used is guaranteed to be free of PFOA chemicals. This means that even if it is damaged, there are no chemicals that can be transferred to food. In addition, thanks to this type of non-stick coating, you can cook with less oil. Therefore, you will have healthier dishes .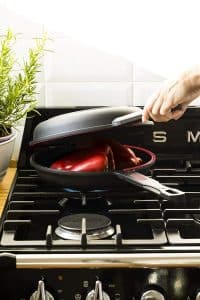 Technologies
The BRA Dupla frying pan is a reflection of the many years of experience and improvement that the brand has. Over the years, BRA has been able to add the most innovative technologies to its products, and this frying pan is no exception.
The main functionality of this frying pan is that it can be used as two independent frying pans (of the highest quality, by the way), or as a single double frying pan perfect for making tortillas.
Oven Effect : Of course, this skillet isn't just for tortillas. You can use it like a normal pan, but by being able to close it completely with the other, it does what BRA calls the oven effect. Put in some vegetables, add a splash of white wine, some garlic, close the pans … and wait!
Manufacturing molten aluminum: thanks to the material with which is made the pan BRA Dupla has numerous advantages, such as high conduction heat, resistance to high temperatures, resistance to corrosion by water, and lightness. In addition, the handle is made of heat-resistant materials , which facilitate the handling of the pan.
Heat diffusing bottom: to take advantage of the heat conductivity that aluminum has, the BRA Dupla frying pan has a heat diffusing bottom, so that the temperature is distributed evenly throughout the food, and there are no uncooked parts.
System power saving: also taking advantage of the high conductivity of the heat of the molten aluminum pan system has a peak performance of the heat. This means that the skillet reaches a high temperature with very little energy, and it maintains the heat for a longer time, even if the pan is not receiving heat.
System sustainability: thanks to the anti – adhesion layer free PFOAs, made of Teflon Classic, you can cook delicious dishes, not just use oil. With this, much healthier and healthier dishes can be cooked .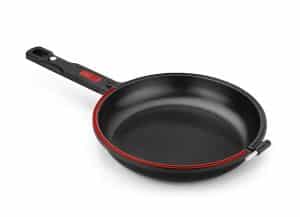 Advantages of the BRA Dupla frying pan
It is a pan compatible with all types of cuisine, so you will not have to renew your pans, not even if you change the kitchen. Thanks to its resistance and compatibility, it is a product that you can use for several years.
It is a sustainable frying pan with the environment, both for its energy saving system and for its chemical-free non-stick.
Disadvantages of the BRA Dupla frying pan
The only drawback is that it is only available in the 24 cm diameter size, there is no variety of sizes because it is designed for tortillas.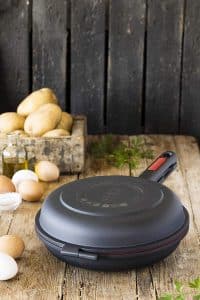 Between you and me
The BRA Dupla frying pan is a frying pan with a very traditional design: finished in matt black, and made of cast aluminum, one of the most veteran materials in the manufacture of kitchen utensils. But, although it has this traditional design and aesthetics, it includes several of the best technologies in the kitchen world, such as the energy saving system, or the heat diffuser bottom.
This type of frying pan is easy to handle, thanks to its lightness and simplicity, so that everyone can use it, even the most inexperienced in the kitchen, or those who do not have enough dexterity. It is easy to use, and easy to clean. Thanks to the non-stick coating, it can be washed with a little water, soap and a sponge. It's also dishwasher-safe, in case you don't have enough time to wash it by hand.
It is for all these characteristics and technologies that the BRA Dupla frying pan is one of the most recommended products . So, if you are thinking of expanding your kitchen utensils, this frying pan is a very good option.
Maybe you are interested
These types of multifunction pans are becoming more and more fashionable. As a result, several of the best manufacturers have launched models that can function as individual pans or put them together to make a pan for tortillas. Another example of this, and that we encourage you to look at if this model did not convince you, is the QUID Gastro Fun. We already analyzed it in its day, with a very good result.