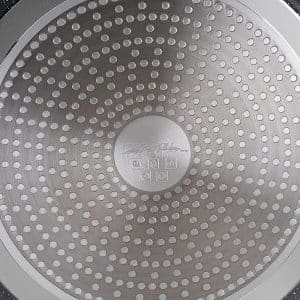 Traditional manufacturers such as Tefal, BRA or San Ignacio have come up with a tough competitor that comes from Asia. The powerful Chinese industry has made its way into the home sector, bringing quality pans and pots to the market at unbeatable prices, and these ITSS4You pans are a case in point.
Some of these models are nothing more than pieces of tin that are not worth it, but some of them do end up calling our attention for their quality and for (almost) resembling European-made models. Let's see if these ITSS4You pans are worth it? Go ahead!
MATERIALS
For the manufacture of these ITSS4You pans , not one material is used, but two: one for its external face and another for its internal core. This seems to us already a declaration of intentions, since joining two materials is a great success.
The exterior of the ITSS4You pans is made of stainless steel. With this we achieve a higher resistance than normal. Its external part will be much more resistant to shocks and scratches that we can give it on a day-to-day basis. In addition, stainless steel is an excellent transmitter of energy, which leaves it well standing in terms of compatibility, as we will see later.
In its inner core, aluminum is used. This material is one of the best conductors of heat that there is, so it achieves a very remarkable energy efficiency, at the same time that it greatly lightens the weight. Aluminum is much lighter than stainless steel, making the ITSS4You frying pan very comfortable to operate with just one hand.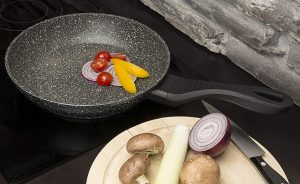 COMPATIBILITY
In terms of compatibilities, these ITSS4You pans have little to envy premium pans like the Tefal Expertise. It is possible to wash the pans in the dishwasher. We believe that if you wash them by hand, their useful life will be longer, although according to the manufacturer these pans are prepared to withstand the pressure of the jets.
It is also compatible with ovens up to 180ºC, so you can finish your recipe with a gratin or a heat stroke. Finally, it is also 100% compatible with all types of kitchens. They will work without problem on glass-ceramic, gas, electric and induction hobs.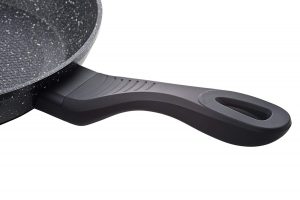 ANTI-ADHERENCE
Here comes the main problem with the frying pans that come from China, and that is that we hardly have any information. The non-stick surface they use is similar to Teflon, but not the Teflon brand. It is a surface of its own from which they give us absolutely no information.
They also do not specify if the surface is free of PFOA and PTFE, although in the European Union PFOAS have been prohibited in kitchen utensils for many years, so we understand that when they are marketed at our European borders, they will be free of this toxic.
Its non-stick qualities from the beginning are very good. It is possible to cook with very little oil which makes cooking much healthier. Their biggest drawback is that the non-stick surface can be easily damaged.
If you use metal utensils or hit them while resting the pan on another, it is possible that these ITSS4You pans will last quite little. However, if you are careful with your pans, wash them by hand, and don't hit them, these pans are probably an excellent decision.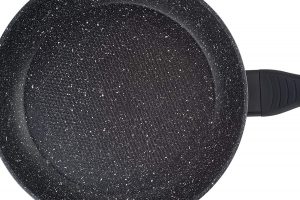 BETWEEN YOU AND ME
We are, in short, in front of some pans of medium-low range. They cannot compete in quality with European manufacturers such as Tefal or BRA. Although the materials they use are up to the task (steel and aluminum), they fail in the resistance of the non-stick surface.
When you buy them, you will see that it is possible to cook with very little oil and that the non-stick works, but when you have been using it a little intensively for a year and without taking care of them much, you will see how it begins to fail. For this, the best are titanium pans that, by the way, are not much more expensive.
But as we said, if you are careful with the kitchenware, these pans will last you for many years in perfect condition and operation.
ADVANTAGES OF THE ITSS4You
PAN
Price is the main virtue of the ITSS4You pans. They are a complete set of pans with a knockdown price.
The quality of the construction materials used. Stainless steel and aluminum are the perfect pair for a long life.
The aluminum core makes them very light and handy pans, ideal for older people.
They are fully compatible with all types of household appliances. They work in the oven up to 180ºC, they are compatible with dishwashers and with all types of cookers, including induction.
The handle has a silicone coating, which makes them very ergonomic. You can handle them even with wet hands without risk of slipping.
It is 4 mm thick, which guarantees good energy efficiency. It is capable of retaining heat very well to be able to turn off the fires a few minutes before finishing cooking.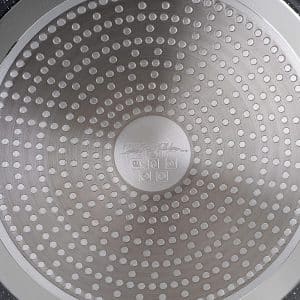 DISADVANTAGES OF THE ITSS4You
PAN
The main drawback is the little information they give us about its non-stick surface. Although it gives a good performance, we doubt its resistance to intensive use.
YOU MAY BE INTERESTED
If you are going to spend that money on these pans, you may find higher-end products, discounted, for a price similar to these.
For example, Tefal Sensoria pans are excellent premium titanium pans, with outstanding resistance and the best non-stick we have tested.
If you want something cheaper but of a very high quality, Monix Mineral pans are one of our favorite options. In addition, they usually have a very interesting price.