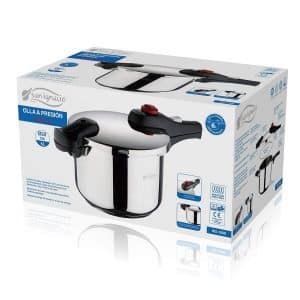 When preparing a certain recipe, it is essential that you have pots, pots or pans that have a great resistance. A good battery and quality pans will make your dishes not stick and it will be easier for you to surprise your guests. If you think of a historic brand, San Ignacio will automatically come to mind, right?
The San Ignacio kitchenware brand is a traditional brand that is on the mind of anyone who likes cooking. Its products are known for their high quality and the resistance of their materials. It is an option present in the kitchens of the greatest chefs in our country and that is improving over the years.
SAN IGNACIO PANS
The pans of this brand can be found in many models, sizes and prices, but they all meet the same qualities. We list some of the best San ignacio pans you can find.
San Ignacio Premium
This set of professional frying pans from the San Ignacio Premium collection is made of gray forged aluminum. Its internal PTFE coating makes your stews do not stick and it has a mottled marble finish that gives it a very professional appearance.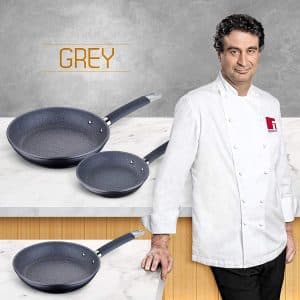 The shape and material used in these pans ensures that the heat is distributed evenly over the entire surface. Its thickness is 3.5 mm at the base and between 2.3 and 2.8 mm in the body, which means that you can use them in high-temperature preparations such as fried and sautéed.
Set of pans SIP San Ignacio
Within the San Ignacio range of pans, this set of pans is made of forged aluminum and allows a great level of energy savings by allowing all the heat to be distributed evenly.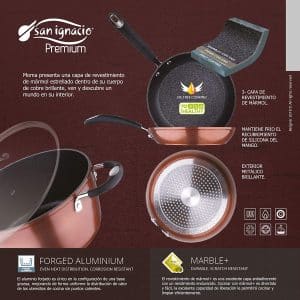 It is a set of pans of 20 cm, 28 cm and 24 cm that adapts to your needs at all times. In addition, it stands out for the copper color in its design and it is of a very suitable thickness for all types of elaborations. They have been tested in low power induction and work very well. Its interior is non-stick speckled in yellow and gray.
San Ignacio Granite series
One of the most outstanding characteristics of the San Ignacio brand is that it adapts to all styles and needs. An example of this is this set of non-stick pans with a granite effect that not only has a granite design, but also has the same properties of granite.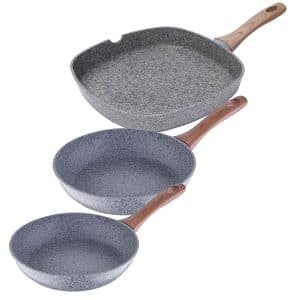 They are pans of great hardness and great resistance to heat. They are made of forged aluminum and if something stands out about these pans is the durability of their non-stick coating. They are suitable for all types of fires including induction fire. An important feature is that they can be washed in the dishwasher.
SAINT IGNACIO CASSEROLES
If the San Ignacio brand has something, it is that it works with a wide variety of products and the pots are reputed to be very durable and resistant.
San Ignacio Casserole SIP Series
This saucepan, available in various diameters, is very suitable for large stews as it offers very good results for energy savings and includes a glass lid so you can control your stews while cooking without having to remove the lid and lose the heat of the food. .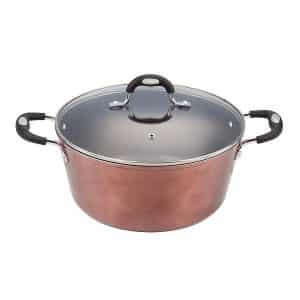 It is a very suitable saucepan for short cooking and offers good results also in induction. Its non-stick interior in black marble gives it a very spectacular design and its metallic copper exterior provides it with a classic style. It has silicone handles that allow an easier grip and manageability.
San Ignacio Granite Series Casserole
This model of San Ignacio casserole is made of stainless steel and has a measuring scale inside that makes it easier for you to make your stews. Its glass lid makes it easy to monitor cooking without having to open the lid.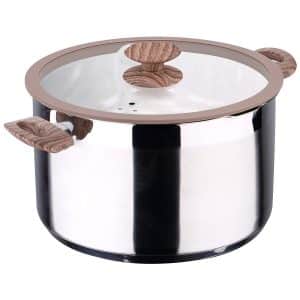 It has a handle that remains cold while it cooks in a way that makes it easier for you to work in the kitchen. In addition, its wood-colored design gives it a modern look. It has a glossy and satin finish that gives it great style. Its dimensions are suitable for various elaborations thanks to its 20 cm.
Gourmet pot San Ignacio
The Gourmet pot of San Ignacio is another of the great jewels of the brand that is designed for foodies in the kitchen. It is a tall pot made of pressed aluminum and with a non-stick coating with a stone effect. Its dark gray metallic design with silicon lacquer and its Bakelite handles and knobs make this pot an indispensable element in the kitchen.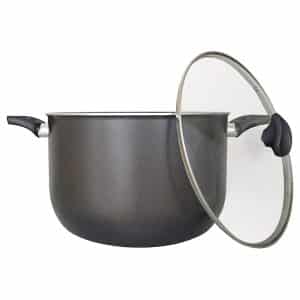 It includes a glass lid and is suitable for all types of fires, including induction. Its diameter is 28 centimeters and with a design that facilitates the proper distribution of heat throughout its surface, allowing energy savings.
POTS EXPRESS SAN IGNACIO
In every kitchen worth its salt there should be a pressure cooker. It is an element of the kitchenware that allows you to cook more quickly and that your preparations are much better.
Pressure Cooker San Ignacio Aragon
This San Ignacio pressure cooker offers a high quality product that you can wash in the dishwasher without any risk and that you can use in all kitchens. It is made of stainless steel and has a pressure regulating valve that allows steam to escape automatically if it detects that the pressure rises above a safe level.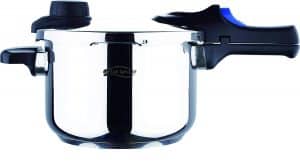 You can program two cooking levels and it has a control button to lock and unlock the lid. It has a bottom that diffuses heat evenly and is resistant to corrosion and abrasion.
Pressure cooker San Ignacio Rioja
This pot has a smooth, satin touch and its exterior design is shiny. Its closing mechanism is durable and presents great security. Its aluminum base allows heat to be distributed evenly.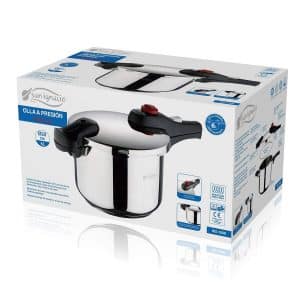 You can wash it in the dishwasher and you can use it in all types of cookers including induction. It is a model with a more classic design, but of great quality and performance.
As you can see, the products of this brand offer many possibilities and have high quality household items. You no longer have excuses to make the best dishes.