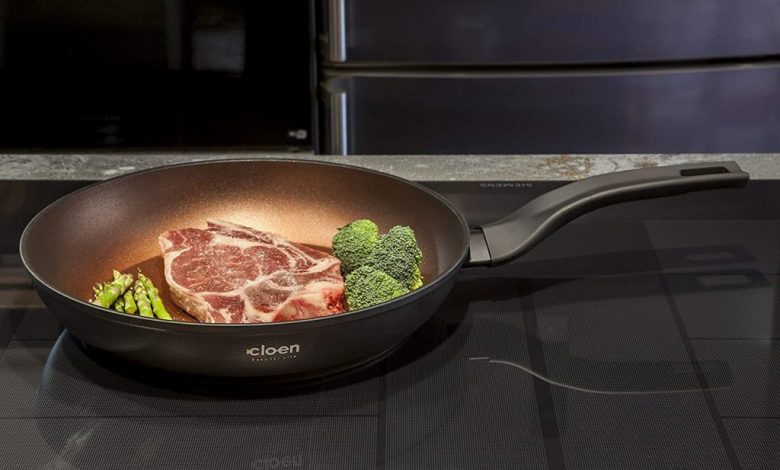 Aluminum pans have become very popular in the kitchenware industry. This is due to its strength and durability properties. In this sense, Cloen Carla pans are made of precisely this material. They also have a triple non-stick layer.
In fact, the forged aluminum with which these pans have been made. It's the same one used in the Cloen Alex pans , which we reviewed earlier. In this particular case, it is a set of two pans that are ideal for preparing tortillas.
In addition, they are pans that stand out for their exterior design with a matte black finish. This gives them a very fine and elegant appearance. It also means that they match any style of kitchen.
Cloen Carla pans materials
We like to emphasize the materials of the pans. Since it is a decisive aspect when making the purchase. The last thing any consumer wants is that their pans won't withstand high temperatures, or that they won't be durable.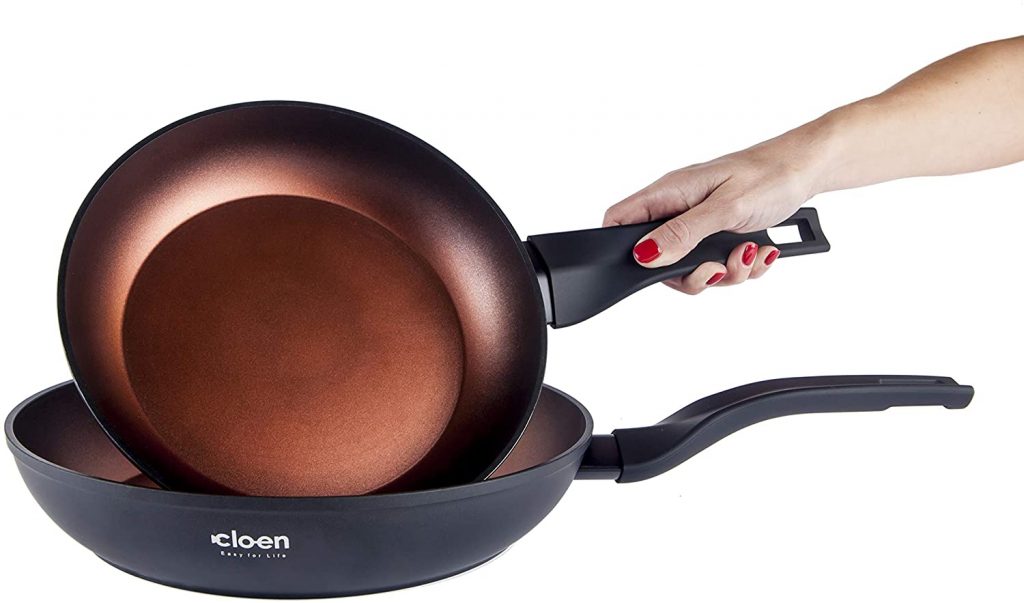 Also, it is always important to know what kind of materials the pans are made of. This in order to avoid acquiring pans that contain materials that are harmful to health, or even that affect the environment.
The good news is that the materials of the Cloen Carla pans. They are not only durable and strong. They are also safe as they are free of PTFE and PFOA, as well as other contaminating materials. We refer to forged aluminum and Bakelite.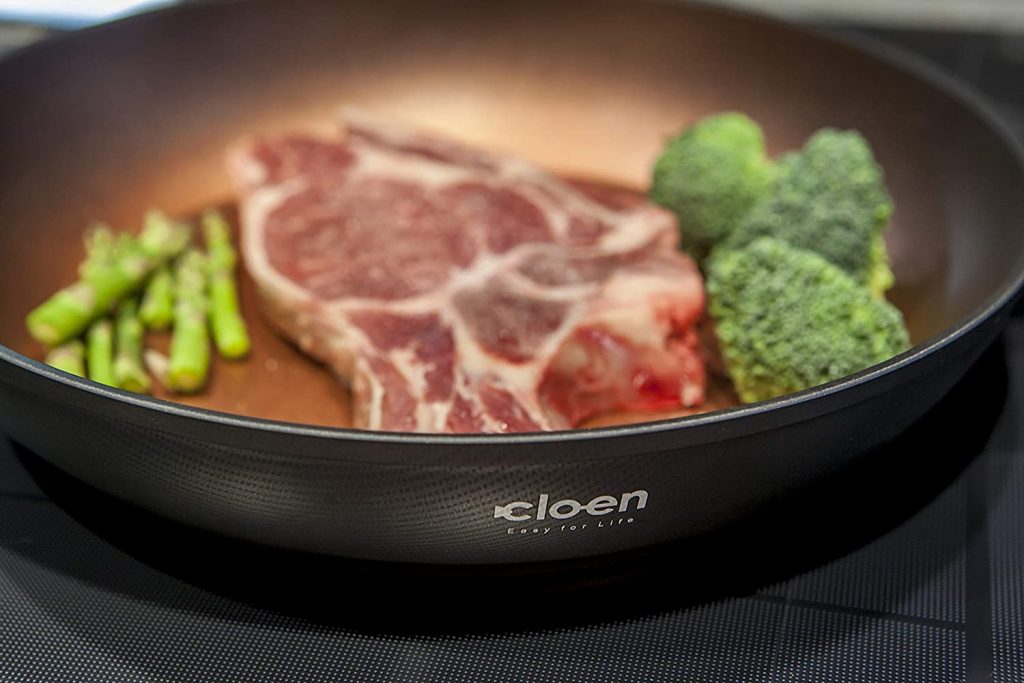 Forged aluminum
All pans that are made of forged aluminum are synonymous with quality. This is not the case with pans made from stamped aluminum, usually more expensive and with a lower life cycle.
The manufacturer in this case has chosen to use forged aluminum to provide maximum customer satisfaction. This forged aluminum is of high quality. In addition, each pan is 4mm thick.
This means that the pans provide long-lasting use with maximum efficiency over the years. But that's not all, Cloen Carla pans have used a manufacturing process that consists of two factors.
The first one allows the aluminum foil to be much thicker. As a result, forged aluminum pans are stronger than stamped aluminum pans.
On the other hand, this process also minimizes the deformation of the pans when cooking at high temperatures. At the same time that the pans are prevented from warping, the durability is also increased.
As a result, the forged aluminum in Cloen Carla pans allows for more efficient heat distribution. In other words, the food is cooked in a more homogeneous way.
Another notable aspect of forged aluminum has to do with its weight. In other words, they are extremely light and easily manipulated pans. You can hold the pans comfortably, without worrying about the added weight of the food.
As if that were not enough, forged aluminum has the property that it does not scratch, since its surface remains intact. Additionally, aluminum does not release toxic substances when you prepare your meals.
Bakelite
Bakelite is another of the materials used in the manufacture of these pans. In this specific case, it has been used on the handles of each pan. This synthetic material is characterized by being thermostable.
It means that when Bakelite solidifies, it cannot be deformed by the action of heat. In fact, what happens is that it compacts even more. In addition, when it has already been molded, the Bakelite retains its shape.
It can even withstand the corrosive effects of some solvents without problems. Of course, this material also withstands considerable temperature increases. Not to mention, it also resists scratches.
Because it is considered a material that does not conduct heat or electricity. Bakelite handles are completely safe to handle. Your hands will not burn and the material will keep its original shape, even if you cook at high temperatures.
Non-stick pans Cloen Carla
Each of the Cloen Carla pans has a triple layer of non-stick coating. This coating is known as Pearltanium, which means that it includes titanium particles for maximum resistance.
Thanks to this non-stick, you can cook your food with less fat. Not only that, this three-layer coating prevents foods from sticking to the pan. In addition, the non-stick surface can be easily cleaned after each use using soap and hot water. You can even put the pans in the dishwasher without fear of scratching or damage.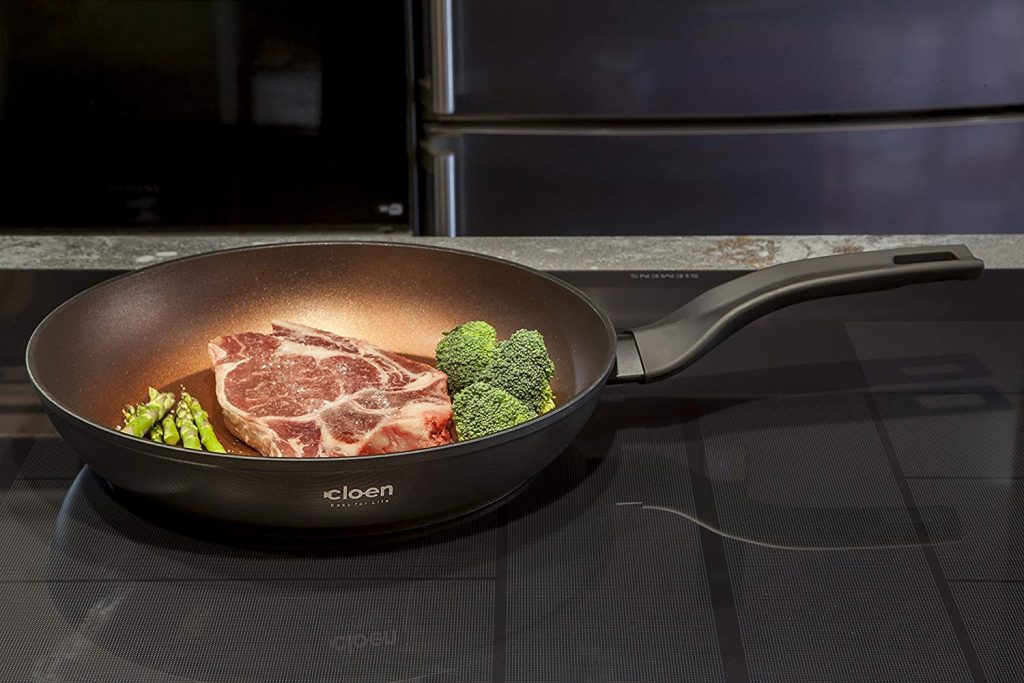 Additional characteristics
The set is made up of two pans. The largest is 28 cm in diameter, while the smallest is 24 cm in diameter.
Each pan is also equipped with an induction base that allows them to be used in all types of kitchens.
This inductor base features a larger diameter and thickness.
Also, in induction cookers, pans are easily detected on induction hobs.
Thanks to this, the food is perfectly cooked on the grill, instead of ending up boiled.
The pans also stand out for incorporating a thick heat-diffusing bottom, which provides excellent performance in cooking food.
These pans are suitable for all types of cookers, including gas, induction, electric, and glass ceramic.
Advantages Cloen Carla pans
They are pans made of high quality forged aluminum.
The pans feature a triple layer of Pearltanium non-stick coating, with titanium particles for durability.
They also have soft-grip handles, made of Bakelite, that do not heat up or cause burns.
They are free of PTFE and PFOA, so no harmful substances are released when cooking.
They are compatible with any type of cooker, from gas, electric, and induction, to glass-ceramic.
Maybe you are interested
Now that you know the characteristics of Cloen Carla pans. You may have realized that they are not really what you are looking for. If that's the case, you might want to take a look at Tefal Unlimited pans .
Unlike the Cloen Carla set, Tefal Unlimited pans are made of stainless steel. Not only that, they have a titanium non-stick coating, which provides greater durability.
Even these pans "let you know" when the oil is at 180 ° C for cooking. In addition, they have ergonomic handles and an extra-reinforced base.