Pans
Magefesa K2 Gransasso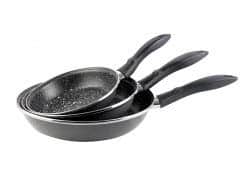 Magefesa is a firm of those of a lifetime and we have all grown up with household items from this brand. The Magefesa pans are a guarantee of trust, if only for decades that lead among us.
In this case, Magefesa presents these simple and cheap Magefesa K2 Gransasso pans. They are an affordable and perfect model for those who are not going to use them very intensively. They do not stand out for their great capacity, but they do stand out for their remarkable quality / price ratio.
Its technical qualities are very similar to the Magefesa Praga pans . Its structure and non-stick surface are the same, so only the colors and finishes change.

MATERIAL
These Magefesa are made of 820º vitrified enamelled steel. This sounds a bit like Chinese, but it can be simplified.
The vitrification process consists of exposing the glaze of the pan to extremely high temperatures. With this, this enamel is vitrified (becomes glass), making this surface much more resistant. With this, it is achieved that if we give it a blow, the enamelling does not peel.
The structure of these K2 Gransasso pans is made of steel. As we know, steel is an excellent heat transmitter: the pan heats up quickly and distributes the temperature well. Obviously it is not as fast to reach temperature as a Tefal Envy pan , but it is a lower range and its price includes it.
This material is compatible with all types of kitchens. It will work without problems on induction, glass-ceramic, gas and electric cookers.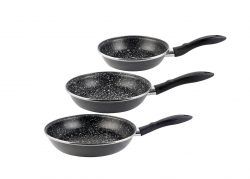 ANTI-ADHERENCE
In this regard, Magefesa relies on its own solution, giving this Magefesa K2 Gransasso frying pan a reinforced stone effect two-layer non-stick trimote coating. This name sounds very bombastic, but it is nothing more than a simple non-stick coating with an aesthetic finish.
The stone effect is merely decorative, and gives it a very nice touch. The non-stick coating is not the best, but it will be enough for the pan with normal use to last one or two years, perhaps longer if it is washed by hand and silicone utensils are used, as we explained in our blog.
HEALTH
Magefesa, for these K2 Gransasso and following the pattern set by the rest of the manufacturers, does not use PFOAS in the construction of its pans. However, we must ensure that the non-stick coating is not damaged. In case this surface has cracks or bumps, the chemicals found under the Teflon layer could be transmitted to our food. Therefore, if the non-stick surface is in poor condition, it is best to change pans.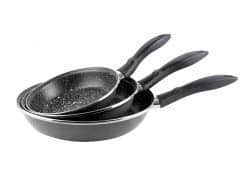 SPECIAL FEATURES
The K2 Gransasso from Magefesa have the following qualities, which are very good for their price:
Diffuser base : constitutes a system to optimize energy efficiency and heat up earlier. It is true that these pans take a little longer to heat up than other ranges. However, when cooked and with the fire off, they will hold out for a long time with the residual heat. The Magefesa K2 Gransasso are relatively efficient pans.
Ergonomic Bakelite Handle: The handle is specifically designed for easy handling of the pan. It has a support base for the thumb in case the pan is loaded and heavy, very practical.
Vitrified enamelling : For the price of these pans, it is striking that they have applied this finish. It does not give any technical quality to the pan because it is only aesthetic, but it will help them not to deteriorate and always be as the first day.
BETWEEN YOU AND ME
We are facing a basic Magefesa model. Simple and unpretentious pans , perfect for those who do not want to spend a lot of money on some pans. Well cared for, they can last two years or more.
They are not the best to use every day at full capacity, but they are perfect for those who want economical and capable pans for the days they have to cook.
ADVANTAGES OF THE MAGEFESA K2 GRANSASSO PAN
First of all, their price, they are one of the cheapest pans that we can buy
They are beautiful, their stone-like finish and their vitrified enamel make them very attractive
They are suitable for induction.
DISADVANTAGES OF THE MAGEFESA K2 GRANSASSO PAN
Its main drawback is that after intensive use at high temperatures, its base can become curved.
Its non-stick surface is delicate and can be easily damaged if not taken care of.
YOU MAY BE INTERESTED
There is nothing cheaper than these pans, but for a very little higher price we can find Bra Prior pans that have much improved qualities compared to these K2s.
If you are willing to shell out a little more for some really good pans, read the review of the Tefal Expertise pans and see if they are worth the price for the price.