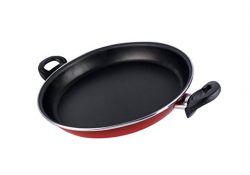 Magefesa Prague Pans
With this Magefesa Praga model, the Spanish firm tries to establish an entry range to its collection of pans. They are simple and quite complete pans, but they have some peculiarities. The Magefesa Praga do not stand out for anything, but they fulfill almost everything, let's see why.
To begin with, we must say that the Magefesa Praga pans are made in Spain. That in itself is already a guarantee of quality.
Outwardly they are very similar to their two sisters in range. Both the Magefesa K2 Gransasso and the Magefesa Toscana Terracota are very similar to these, mainly changing their aesthetics.
These Magefesa Praga are the simplest, with more sober and traditional finishes , which shows us that they should withstand the passage of time well.
MATERIAL
In this case, for this Praga model, Magefesa once again used vitrified enamelled steel .
We have to say that we are surprised that some pans in this price range use steel for their structure. Low-medium range pans usually use aluminum, which is cheaper. Stainless steel and iron is reserved for higher models (and for this Prague model)
Steel, as we know, is an extremely strong material but heavier than aluminum. There are lighter pans, but they are also less durable. On the other hand, a great advantage is that the steel makes them compatible with all types of kitchens. It will work perfectly on vitroceramic, induction, gas and electric hobs .
The exterior of the Praga pans is enameled and vitrified. This means that this enamel has been subjected to extremely high temperatures to turn it into glass and make it more resistant. In this way we will prevent it from chipping over time and giving it a shiny and long-lasting appearance.

ANTI-ADHERENCE
For these purposes, this Praga model is served with a two- layer non-stick coating reinforced with the Magefesa signature. The non-stick is not Teflon. This gives us little data on its non-stick capacity but if we know that, being an entry range, we will have to be careful because although the non-stick works, it can be damaged very easily.
Some users have complained that it loses non-stickness over time, although it may be because they are unaware of the care required by these pans. This basic finish forces us to use wooden or silicone utensils so as not to damage the pan.
If we want a more resistant non-stick surface, we will have to go to higher ranges such as the Tefal Expetise with titanium coating.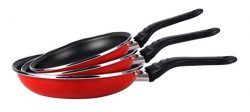 HEALTH
In this regard, Magefesa joins the rest of the manufacturers and does not use PFOA in the manufacture of its non-stick products. Therefore, as long as the non-stick coating is in good condition and the surface underneath is not visible, no toxic component will be transferred to our food.
In case the non-stick coating is damaged, we run the risk of the substances under it being transferred to our food. If a pan is damaged, it is better to change it. Unless it is made of iron or stainless steel, which in those cases are not damaged, nor do they have any chemical compound.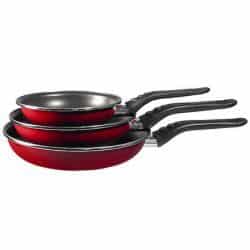 SPECIAL FEATURES
The technologies applied to these Magefesa Praga pans are those of some pans in this price range:
Two-layer exterior enamelling : for their shine and color to last longer, a layer of enamel has been applied and after a heat treatment at 820º C it has become glass. This makes them durable and strong on the outside.
Diffuser base : With this, Magefesa guarantees optimum energy efficiency to distribute the temperature quickly and efficiently. In addition, it allows the Praga model to acquire the optimum temperature in a very short time with the consequent energy savings.
Ergonomic antipyretic handle: It is a simple plastic handle, ergonomic and adapted to the shape of the hand to make it easy to handle. It does not transmit the temperature of the pan at all.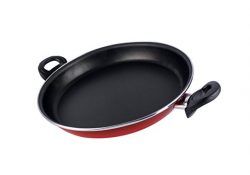 Magefesa Pans Opinions
We are in front of some simple pans, without great pretensions but that do not lack anything. The chosen material, steel, makes its support a very resistant piece .
However, the non-stick coating that these Magefesa Prague pans present us has its peculiarities. If you take care of it using wooden or silicone utensils, they will last you a long time. In the same way, avoid overheating the surface above 260º.
But all this must be put in context, they are very efficient pans, which, being a little careful, become an excellent option for their very low price.
PAELLERA
POTS
PAN FOR TORTILLAS
ADVANTAGES OF THE MAGEFESA PRAGA PAN
They are very economical, we would say that the cheapest that can be acquired.
Well cared for and maintained, they are good for almost everything.
Its steel structure ensures strength and durability.
DISADVANTAGES OF THE MAGEFESA PRAGUE PAN
Its non-stick coating is delicate and can deteriorate quickly if we are not careful.
If we subject it to high temperatures, the base of the pan may become deformed.
YOU MAY BE INTERESTED
There is nothing cheaper than these pans, but for little more you can find some BRA Terra pans . They are pans with a more resistant non-stick coating, lighter and much better finished.