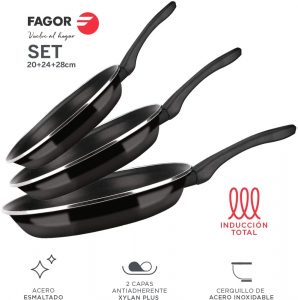 Perhaps it is time to replace your old pans with a more durable and resistant option. Therefore, this time we want to recommend this set of 3 Fagor Optimax pans. They are pans that combine durability and resistance, with a sober but elegant design.
Furthermore, the Fagor brand is internationally recognized for the quality of its pans. Founded in 1956, this brand is based in the Basque Country and has a great reputation as a manufacturer of kitchenware and household appliances.
Materials for Fagor Optimax pans
As always happens, the material of the pans is a key factor. In this case, these Fagor Optimax pans stand out precisely for the quality of their materials. They give you a perfect combination between the durability of steel, and the ergonomics of Bakelite.
Enamelled stainless steel (vitrified)
Like many other stainless steel pans. The Fagor Optimax range provides high strength and durability. These particular pans have been made of a 1.5mm thick enameled type of stainless steel.
In fact, the outside of each pan has an enamel coating. Thanks to this, the pans have an impeccable shine that combines with any kitchen design. In addition, the pans have a high density, which provides greater hardness throughout their structure.
To be more precise, Fagor Optimax pans withstand daily use without inconvenience. Not only that, they provide excellent heat distribution. As a result, cooking your food is more efficient, reducing time and promoting flavor.
We want to highlight that the pans made of vitrified steel. They are much more durable than any conventional skillet. This durability is not only related to constant use.
It also has to do with your visual appearance. In other words, Fagor Optimax pans with enamelled steel maintain their shine and appearance for longer. On the other hand, they are pans suitable for all types of cooktops.
Even being a type of vitrified stainless steel, your food does not stick. Thanks to this non-stick base, everything you cook will keep the original flavor of the ingredients.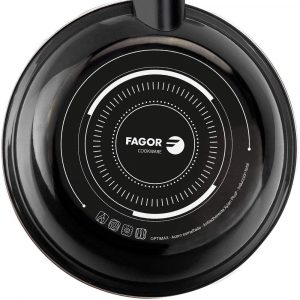 Bakelite
Bakelite is another of the materials present in Fagor Optimax pans. In this case we find it in the handle of each pan. With an ergonomic heat-insulating design, Bakelite provides protection by avoiding burns.
In addition, this ergonomic design adapts to any style of kitchen. However, the most important aspect is that Bakelite handles are not affected by high temperatures.
This means that Bakelite handles will maintain their ergonomic shape, regardless of the intensity of heat used for cooking. Even this material is highly resistant to the corrosive effect of certain solvents.
And because Bakelite does not conduct heat or electricity. The handles of Fagor Optimax frying pans are safe to handle.
Non-stick pans Fagor Optimax
Along with materials, non-stick is also one of the key factors when choosing a skillet. In the case of Fagor Optimax pans, the manufacturer has incorporated a double-layer non-stick coating called XYLAN Plus.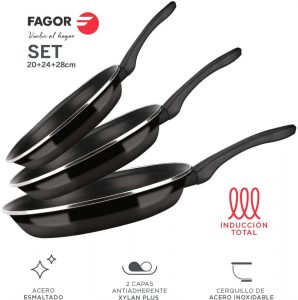 This non-stick double layer fulfills several functions. On the one hand, it increases the durability of the pans by making them more resistant. In addition, it also makes cleaning easier and faster.
This is because no matter what type of food you prepare, they all slide across the surface of the pan. Nothing sticks, much less traces of food remain. To top it off, each pan has a tough undercoat of primer.
This lower layer prolongs the durability and non-stickiness of the pans. Another thing, you don't have to worry about toxic substances. Fagor Optimax frying pans are free of PFOA, and do not contain heavy metals either.
Additional characteristics
As stated at the beginning, this is a set of 3 non-stick stainless steel pans. Each pan is a different size, so they are suitable for preparing different foods.
The largest pan has a diameter of 28 cm. The medium frying pan has a diameter of 24 cm, while the smallest frying pan measures 20 cm in diameter. In addition to this, it is worth highlighting other characteristics of the Fagor Optimax pans.
They are pans compatible with any type of kitchen.
This means that they can be used on any type of hob, including induction, gas and mixed hobs.
Another feature to highlight has to do with its aesthetics. All pans have an enamel finish on the outside, which adds shine and elegance.
Also, these pans are dishwasher safe. It means that they do not rust and their protective non-stick coating remains intact during the washing process.
The pans also have an induction bottom to save energy. In fact, up to 75% energy can be saved.
Advantages of Fagor Optimax frying pans
These pans are made of enameled stainless steel that provides greater strength and durability.
This material also provides better heat distribution, while its high density guarantees greater hardness and resistance to constant use.
The pans are suitable for any type of hobs (induction, gas, glass-ceramic, mixed). You can even clean them in the dishwasher without any inconvenience.
All pans have a double layer of XYLAN Plus non-stick coating. This prevents your food from sticking and at the same time makes cleaning easier.
The handles of the pans are ergonomically designed and made of Bakelite. It means that they are easy to hold, they do not heat up, nor do they warp.
They do not contain PFOA, so they do not release toxic substances.
Maybe you are interested
We always like to recommend an additional option. Especially if the pans we are talking about do not convince you at all. In this case, you may be interested in the Magefesa Paula set of 3 pans .
Although they are also pans made of vitrified stainless steel. In fact, its price is more affordable compared to Fagor Optimax pans. They also have a Quantanium bilayer that provides a high quality non-stick surface.
Another aspect to note is that the pans have a heat diffusing bottom. Thanks to this, the heat is distributed evenly and your food is cooked at the same time.