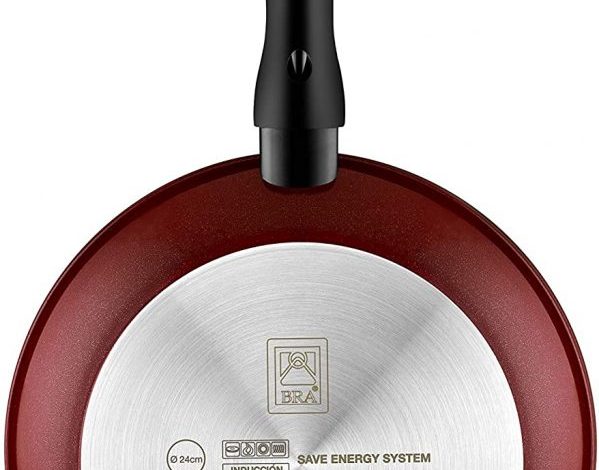 At SartenesyCazuelas we always try to offer you the best pans on the market. Therefore, we only select the most prestigious brands of frying pans. In addition, we strive to show you the main characteristics of each pan. This time it is the turn of the set of 3 pans BRA Red Diamond.
It is a set of pans made of forged aluminum and titanium, available in three different sizes. Personally we really liked its design. With that combination of colors in black and maroon that make them look elegant and attractive. Suitable for any kitchen.
But beyond their design, these pans also stand out for their excellent non-stick ability. In fact this is one of its highlights, along with the quality of the materials.
Materials of the BRA Red Diamond pans
The materials of what the pans are made should always be your main concern. In this case, the BRA Red Diamond pans are backed by a brand that has more than 50 years of experience in the kitchenware market.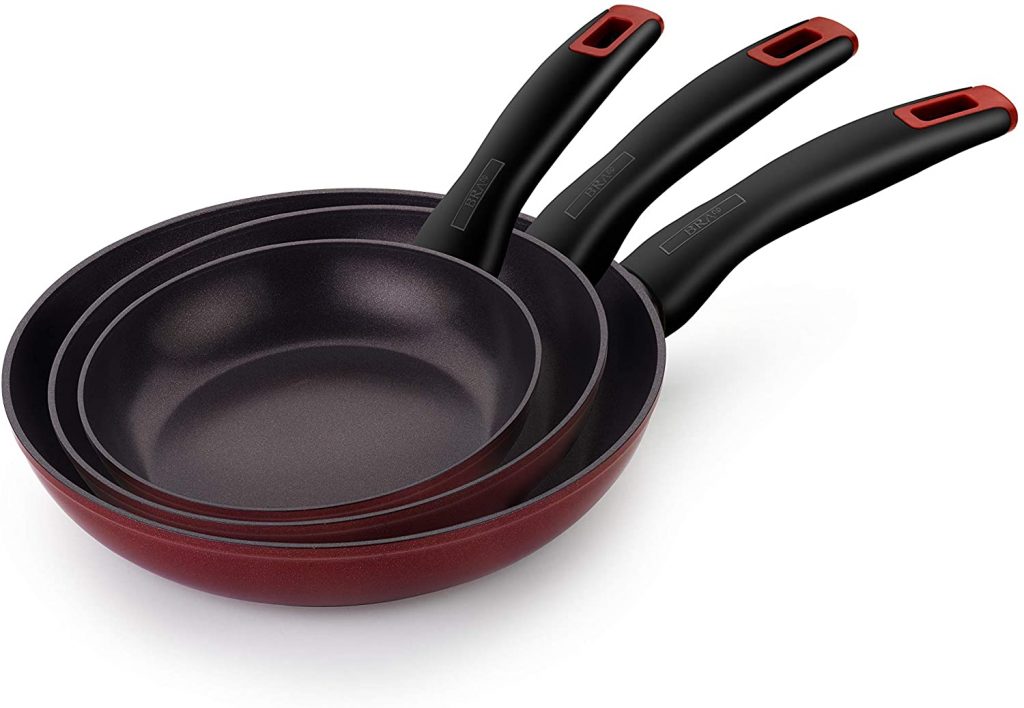 This means that you can trust that the materials in these pans are of the highest quality. Mainly four materials stand out: Forged aluminum, titanium, diamond, and Bakelite.
Forged aluminum
The forged aluminum in the BRA Red Diamond pans is not only of great quality. It also has unique properties that make it an excellent conductor of heat. In addition, the forged aluminum pans are highly resistant to corrosion.
To all the above we must add the light weight of aluminum. This makes the pans very comfortable to handle. Additionally, they are non-deformable pans that have a non-stick coating of the highest quality.
Contrary to what happens with other types of pans. The aluminum in this pans does not contain PFOA. Therefore you do not have to worry about the harmful effects of this chemical compound.
Titanium
Titanium is found in the non-stick coating called Quan T anium Whi t ford. This material has been chosen due to its highly resistant properties. But also because it favors a healthier kitchen since not so much oil is required to cook.
In addition, titanium is a material that can perfectly preserve temperature. As a result, your food always cooks evenly.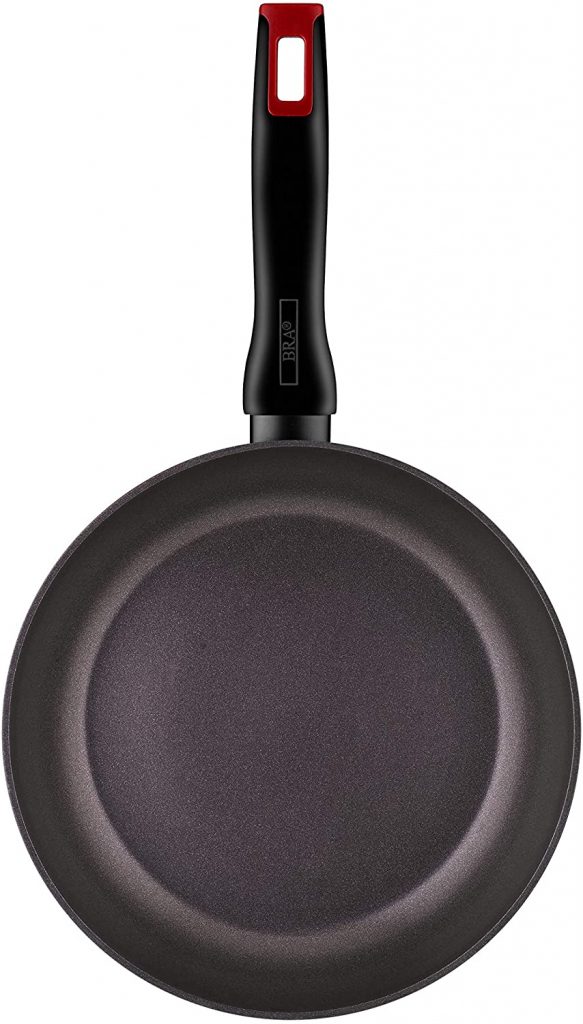 Diamond
The diamond in these pans is present in the form of particles. It acts as a reinforcing component in the non-stick coating. Thanks to this combination, the pans can withstand practically anything that is cooked in them.
Its objective then is to extend the life and strengthen the hardness of the coating. In these pans, the manufacturer has added the diamond particles over the sturdy forged aluminum frame.
Another advantage of diamonds in BRA Red Diamond pans has to do with thermal conductivity. In other words, its presence on the non-stick surface facilitates the homogeneous distribution of heat.
As a result, the Red Diamond pans from BRA. They allow you to cook your food using less oil.
Bakelite
As in many other Titanium pans. The Bakelite in the BRA Red Diamond pans is present in their handles. In fact, each of the pans features an ergonomic soft-touch Bakelite handle.
It means that you can handle the pans in complete comfort and safety. In addition, Bakelite is a material that does not heat up like metal. Therefore, you can cook your food at the highest temperature and the mangoes will never get hot.
As if that were not enough, Bakelite does not conduct electricity and can easily resist any corrosive effect.
Non-stick pans BRA Red Diamond
Let's talk about the nonstick coating Quan T anium Whitford. As already mentioned, this coating is reinforced by the diamond particles. Due to this, it provides excellent resistance to scratches, abrasion and wear.
In addition, and as a consequence of the incorporation of Titanium. The coating becomes more durable compared to other conventional coatings. In fact, Titanium particles are even harder than chrome and steel.
Not only that, this non-stick coating has been reinforced internally with two layers. Therefore, it resists the harmful effects of animal fat and cooking high-sugar foods.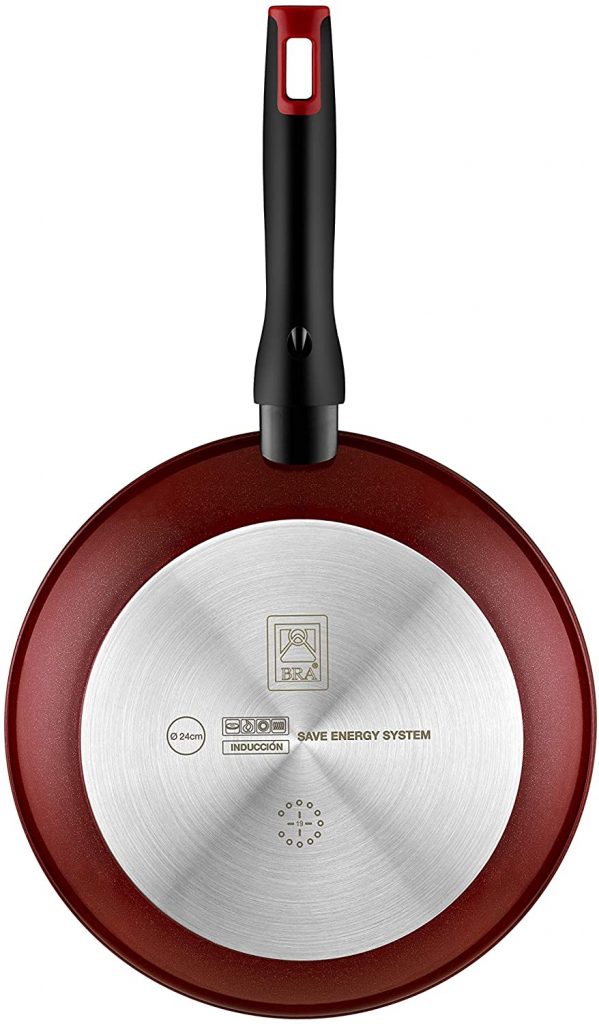 Additional characteristics
There are other additional aspects that we would also like to mention. For example, this is a set of 3 pans that come in three different sizes. The largest pan has a diameter of 28 cm. The medium frying pan measures 24 cm, and the smallest frying pan has a diameter of 20 cm.
Other features include:
Compatibility with all types of hobs. You can use these pans on induction, gas, glass-ceramic hobs, and even on modular hobs.
All pans are 4.5mm thick to ensure maximum durability.
Likewise, each frying pan has an ergonomic thermo-insulating Bakelite handle.
A Full Induction bottom has also been integrated, without holes. This allows you to take full advantage of all the heat and obtain the optimum temperature for cooking the food.
Attractive exterior design with a garnet finish.
Advantages of BRA Red Diamond pans
Pans made of reinforced aluminum with high resistance and durability.
QuanTanium Whitford non-stick coating reinforced with Titanium and diamond particles.
Even heat distribution that allows food to cook more quickly.
They can be used on all types of cooktops. Gas, induction, glass ceramic, and modular.
Ergonomic thermo-insulating handles made of Bakelite that do not heat up and facilitate the handling of pans.
Non- stick coating does not contain PFOA. The pans do not give off any harmful chemicals.
Maybe you are interested
If the BRA Red Diamond pans don't convince you, don't worry. We have another recommendation for you. These are the Bergner Just For Chefs pans , also made of aluminum and Titanium.
They are pans endorsed by the Cook Chef Institute quality seal. Its base has an induction bottom for better heat distribution. In addition, its non-stick coating resists scratches, wear and abrasion.
They also feature an extra long silicone coated stainless steel handle. By the way, one of the pans, the largest, is a grill pan. It means that you can fry and sauté your food with little oil.