Wecook Ecogreen is a set of 3 non-stick pans that are characterized by their ecological component. That is, they are pans free of PFOA, a toxic and harmful carboxylic acid.
In addition, these pans are compatible with all cooktops. Not only that, you can clean it in the dishwasher for greater comfort. And because they are made of pressed aluminum, the pans do not warp.
Materials
The materials with which the pans are made and the different kitchen utensils are key in the purchase decision. In this sense, Wecook Ecogreen pans have the advantage that they have been manufactured with highly durable and highly resistant materials.
Aluminum
The main material with which Wecook Ecogreen pans are made is non-deformable pressed aluminum. Such material offers many benefits compared to iron pans or steel pans.
For one thing, aluminum is a good conductor of heat. That is, it conducts heat faster and more efficiently. Thanks to this, it is not necessary to adjust the fire so that its surface heats evenly.
This translates into savings in energy and money. But that's not all, aluminum pans cool faster once food is complete.
Another aspect to highlight about aluminum is that it is a relatively light material. It means that you can manipulate the pans easily, which is perfect for the elderly, or with some kind of hand injury.
In addition to all the above, an aluminum pan does not release toxic substances when cooking. In addition, it is a material that, due to its characteristics, facilitates the cleaning of pans. You can wash by hand or in the dishwasher.
Bakelite
Bakelite is often used in making pan handles. There is a good reason for this, or indeed several. Being a thermoset polymer that solidifies, Bakelite does not mold if heat is applied to it.
In addition, the handles made of Bakelite are non-deformable and resist any increase in temperature without problems. They also do not scratch, they do not conduct electricity or heat, so you can hold them safely.
Non-stick pans Wecook Ecogreen
Let's talk now about non-stick, a fundamental aspect in any pan. In this case, each of the 3 Wecook Ecogreen pans has the ecological XYLAN Plus non-stick coating.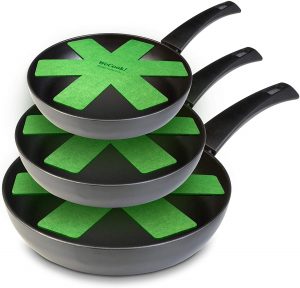 As mentioned at the beginning, this release material does not contain PFOA. Therefore, no toxic gases are released when you prepare your food. Obviously the environment is not damaged, much less your health or that of your family is affected.
The great thing about this type of non-stick coating is that it allows you to cook at high temperatures. In addition, it provides a low coefficient of friction. This means that the food slides into the pan and does not stick to its surface.
Additionally, the XYLAN Plus coating is resistant to wear and corrosion. Your pans will remain intact, without scratches and protected against any corrosive agent.
Additional characteristics
The Wecook Ecogreen pans set consists of 3 pans. The largest has a diameter of 26 cm, the medium is 22 cm, and the smallest is 18 cm. All pans are made of aluminum, have Bakelite handles, and XYLAN Plus non-stick coating.
There are other features that are also very important, for example:
You can use the pans on all types of hobs, from ceramic hobs, to induction hobs, gas hobs, and mixed.
All pans also feature a sleek finish, and are 3mm thick for added strength.
A 100% Full induction diffuser base has also been arranged, which guarantees a better distribution of heat over the entire surface.
Food is cooked evenly, thus saving energy.
This induction base is strongly welded to the pan, which provides maximum diffusion and heat transmission.
The pans also come with 3 high-quality cloth protectors.
Its purpose is to protect the non-stick coating, as well as to prevent scratches on the surface.
The Bakelite soft Touch handles are ergonomically designed for a better grip.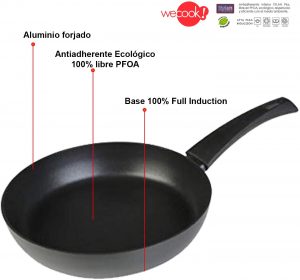 Advantages of Wecook Ecogreen pans
They are pans made of pressed aluminum with great resistance, non-deformable, and excellent heat distribution.
The food contact surface has an eco-friendly non-stick coating called XYLAN Plus.
Such a coating not only prevents food from sticking. It also allows you to cook at high temperatures. It is also resistant to wear and corrosion.
The pans do not contain PFOA, so no toxic gases are released and your food retains its original flavor.
The Bakelite handles are ergonomic so you can handle each pan comfortably, safely and firmly. In addition, they do not heat up and neither do they deform.
The diffuser bottom on each pan ensures even heat distribution. Thanks to this, your food cooks evenly.
3 high-quality fabric protectors are included to provide added protection to the pans, preventing them from being scratched or knocked over.
Maybe you are interested
At this point you already know all the characteristics of Wecook Ecogreen pans. However, it may not be what you are looking for. Don't worry, we have another option that may interest you: Tefal Expertise pans .
It is also a set of 3 pans, they are even made of aluminum. However, they do have a titanium non-stick coating. To be more precise, the Titanium Excellence range, which provides a very high degree of non-stickiness.
In addition, the diffuser base in each pan allows the temperature to remain constant and without variations. You will prepare your meals in less time and save energy.
Compared to Wecook Ecogreen pans, Tefal Expertice pans are slightly larger. The smallest frying pan measures 21 cm, while the medium frying pan is 24 cm in diameter, and the largest 26 cm.