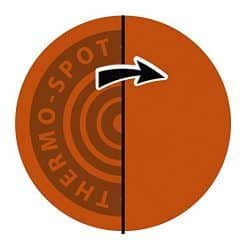 With this product, the French firm presents the Tefal So Intensive to occupy a privileged place among mid-range pans. Their positioning, according to the brand, places them as battle pans for day to day. They are inexpensive pans , however, as we know, Tefal does not deal with the low ranges and does not compete with them.
We could say that all Tefal pans are mid-range, medium-high and high-end. Well, these So Intensive would represent a mid-range. They are cheap, durable and titanium pans, but not in all cases they will be a good buy. Let's see it.
We leave you with a short presentation video that shows one of its best qualities: the ThermoSpot.
VIDEO
Tefal: Tests Thermospot
MATERIALS
Regarding its construction, for these So Intensive, Tefal uses aluminum. It is a light, inexpensive and resistant material. It is not as much as stainless steel, but there we would be talking about other ranges and of course, other prices.
The good part about aluminum is its extremely low weight. These pans are really light and can be easily operated with one hand.
The bad part of this particular model is that it is NOT compatible with induction hobs. Yes, this So Intensive frying pan can be used on glass-ceramic, induction or gas hobs. Even in the oven ! Of course, as long as we do not exceed 175º C.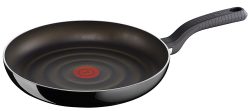 In the same way, it is perfectly possible to put the Tefal So Intensive in the dishwasher for washing, facilitating cleaning tasks and avoiding having to wash by hand. This contributes to the fact that it does not have any screw or rivet connecting the handle on the inside, resulting in a smooth surface.
For its easy handling, in addition to the light weight, the design of its handle greatly contributes. It does not stand out for being excessively pretty, but for being tremendously functional. It is an ergonomic curved handle with silicone finishes. This allows easy handling with hands even wet or dirty with oil. It is a fixed and non-removable handle.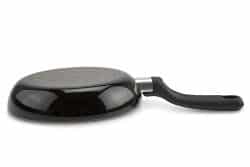 NON-ADHERENT
This is one of the things that the French firm Tefal takes care of the most. In this way, almost all its pans already use the precious Titanium and at really competitive prices. Initially, titanium was very expensive, although thanks to the manufacture of hundreds of thousands of units, its price has been democratized.
Thus, the Tefal firm has several finishes with this material, providing this So Intensive model with Titanium FORCE. This finish with titanium inserts gives the pan twice the resistance compared to its most basic finish, Powerglide.
However, we must know that of the finishes with Titanium inserts this is the most basic there is.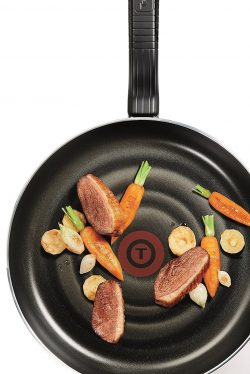 Its non-stickiness is excellent and its resistance is very remarkable. We are not going to stop analyzing the quality of the non-stick because a firm like Tefal and a modern frying pan are already supposed to have excellent non-stick properties.
What changes then? Well, what differentiates a good frying pan from a bad one is how long that initial non-stick lasts. A low-end frying pan will be very non-stick at first, but after ten or fifteen uses, it will likely lose its effectiveness.
That is precisely why this Tefal So Intensive model and others from higher ranges have Titanium inserts. They ensure that nothing can damage that non-stick surface and it will remain perfect for many years.
No exterior non-stick
Regarding the outside of the pan, it is enameled to increase scratch resistance. This is fine and very aesthetic as it maintains the perfect shine over time. However, we would value more positively that it also had non-stick on the outside.
It is really useful so that food that can jump or when pouring it on a plate does not stick to us. If we want a non-stick surface also on the outside, we must go to a superior model such as the Tefal Talent Pro.
As for the possible toxic components that we could find in the So Intensive, we can be completely calm. Tefal is a leading brand in the sector and its good work guarantees that its models are 100% free of PFOAS.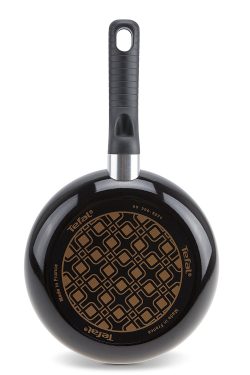 TECHNOLOGIES
As we said at the beginning, these Tefal So Intensive are a mid-range model, for day to day, without great technological pretensions. However, if they present interesting things:
ThermoSpot : This function consists of a red circle located in the center of the pan. It reacts to the temperature, thus indicating the perfect moment to start cooking. With this we manage to avoid that the fillet is cooked, or that the fish loses its water due to not having enough temperature.

Diffusal Base

: By including a greater amount of copper inside this diffuser base, Tefal has achieved a better heat distribution. Thus, by managing to distribute the temperature optimally throughout the pan, the end will be at the same temperature as the center. This diffusal base, however, makes them incompatible with induction cookers.
Ergonomic handle: It is something fundamental, as it is the only thing with which we will always be in contact. A poorly designed handle or a slippery material can cause us more than one scare. In this case, it is ergonomic, curved, fixed and built in silicone. The best choice.
Enamelled exterior: With this enamel an excellent and long-lasting shine is achieved, as well as good resistance to scratches. We do not like, however, that it has not been equipped with greater non-stick also on the outside, it seems to us something fundamental.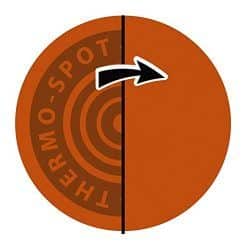 BETWEEN YOU AND ME
The Tefal So Intensive are perfect pans for daily use by those who DO NOT use induction cookers. They are economical, light and resistant. However, the brand itself cannibalizes these So Intensive with other superior models for very close prices.
For this reason, we believe that it is an ideal frying pan for those who look a lot for the price and with a little budget want some Titanium pans. If you want to evaluate our two alternative options, we will show you a little below.
ALSO AVAILABLE IN WOK
ADVANTAGES OF THE TEFAL SO INTENSIVE
They are very cheap pans to have inserts in Titanium.
The quality of the non-stick surface is simply excellent and very durable.
They are very light and ergonomic, thanks to the aluminum and the silicone handle.
DISADVANTAGES OF THE TEFAL SO INTENSIVE
They are not compatible with induction cookers.
Its enameled exterior is non-stick.
For very little more you can opt for a frying pan of the same brand that is quite superior.
YOU MAY BE INTERESTED
As we said, if you like all the features of this model but you don't want its drawbacks, there is a solution. The Tefal Chef model has a superior non-stick, the Titanium PRO. In addition, it is compatible with induction cookers and has an interior and exterior non-stick surface .
Finally we would have one of the best quality / price ratio models from Tefal. It is about the Tefal Expertise. They are pans with all the qualities of the Tefal Chef but with Tefal's top-of-the-range non-stick surface, Titanium Excellence. They are in our opinion some of the most balanced pans on the market and sometimes for the same price as the Tefal Chef.
You already have the information, you decide!