Tips
Typical German dishes: Top 6 of the best known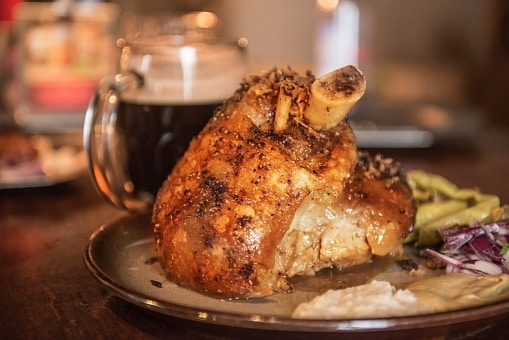 One of the most wonderful things in the world is Germany, a great country abundant in wealth, and of all these, the one that stands out the most is its gastronomy, which through time has had an incredible reach all over the world, being loved by the inhabitants of the different regions. In particular, typical German dishes are identified by their great taste, and vary from state to state, as some share their culture and social ideas with other countries, for example: Switzerland and Austria with Swabia; others resemble France, and others with Europe or Holland; in this way, they complement each other to guarantee the exquisiteness of their dishes.
So, if you are thinking of trying some typical German food, do not stop reading this article, as I will introduce you to some of the best known and the best in taste. Let's see!
Bretzel
Maybe you know him by this name or by " pretzel ", since it is not only found in Germany, however, it was born here. This is a dessert, and I can assure you that it is one of the most delicious in the world. It is a bread that is shaped like a bow. This bread is baked and can be sweet or salty, both have a large audience.
What is the bretzel made with? With the following ingredients: mainly flour, yeast to make it grow and look super eye-catching, milk, baking soda, butter and salt. To give it a sweet touch, it can be glazed after it is ready, with sugar, cinnamon or any other type of detail that identifies your taste. Many people usually eat it with melted chocolate, hazelnut cream, arequipe, some jam, among others.
The history of this typical dish is very particular, since it comes to give its origin many years ago, when the Celts prepared it to celebrate the arrival of spring, an important time. In fact, its shape did not come to be random, nor because it was pretty, rather it represents the horns of the ram, a very popular figure for those years.
Rinderroulade
This is one of the typical German dishes best known in different parts of the world. I'm talking about a meat roll. This recipe is prepared by wrapping very thin pieces of pork, veal, or beef; With what is wrapped ?, with bacon. It is dressed with onion and pickles, which are seasoned with mustard and cooked.
There are regions where the rinderroulade is prepared in a different way, with minced meat in pieces and bacon is added. All this is usually eaten together with soft cooked or baked potatoes, and if we talk about more exclusive places, the potatoes are served pureed.
Like many of the typical foods of Germany, this was previously very traditional and not so recurrent in restaurants or expensive places; now everything has changed, it is one of the most sought after dishes in totally exquisite places.
Eisbein
In Germany, pork is the most loved meat, which is why many of its typical dishes contain, either as a main ingredient or as a complement, a beautiful piece of pork. For this reason, I will mention the Eisbein, a meal that is up to the mark and that is a smoked pork knuckle, which is cooked over low heat in a pan or casserole and with a lot of seasoning.
This recipe is to die for. The most incredible thing about tasting it is when the pieces of pork melt in your mouth and you can appreciate its splendid honeyed texture.
If you are thinking of traveling to Germany, do not hesitate to order this dish, I assure you that you will enjoy it a lot. It should be noted that it is not only eaten in this country, because due to its rich flavor, it is found in more than a thousand restaurants throughout the point.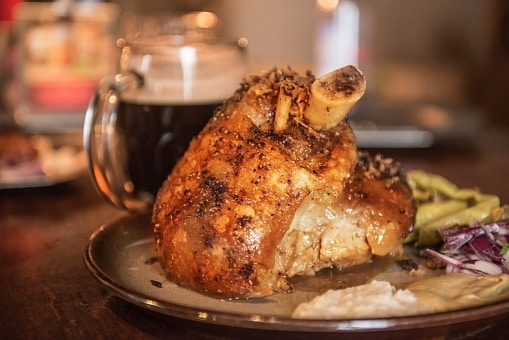 Flammkuchen
We all know pizza, its shape and taste; Well, flammkuchen is very similar to this recipe, so if one day you see it and you don't know what it is, think about it being a pizza. This food comes to be very complemented with French cuisine, since it originated in the regions of the Rhineland, Württemberg and Saarland.
The birth of the recipe is somewhat different from the others, since in the middle of the 20th century, before baking bread, a super thin layer of dough was put into the oven to see if it was ready to put the bread in, as it was very It was important that the temperature was perfect. Now, that experiment that emerged a few years ago is today one of the best recipes in Germany, and it is prepared in the following way: after the bread dough is ready, it is flattened and placed in the oven. Later, on top of this, onion, bacon, very fresh cream and white cheese will be added, either grated or in small pieces.
Nordseekrabben
The ingredient that has the most presence in this dish is a seafood taken from the beautiful salty beaches of the coasts of Germany, and it is fresh prawns. Many believe that a dish cannot have shrimp as its primary ingredient, however, as strange as it may seem, these are really the only ones necessary to enjoy an excellent meal.
His recipe is 100% simple. The prawns are fried and any dressing is added, whichever is your preference.
Black jungle cake
Just reading this name doesn't taste good? Well, you have to try this delicious dessert, one of the best, in fact.
Its name is given by the most famous jungle in this country, which is called "black". It is a beautiful, large place with an abundance of trees of all sizes.
This cake is known to all Germans and its name in German is " schwarzwälder kirschtorte ". It is a biscuit and chocolate cake, which also contains cherries on top, giving it an elegance suitable for that country. In addition, it also contains a type of liqueur dressing, which has a taste similar to cherry.
It is prepared in layers: biscuit, whipped cream, cherry jam, biscuit, whipped cream … and so on, giving it a generous height.