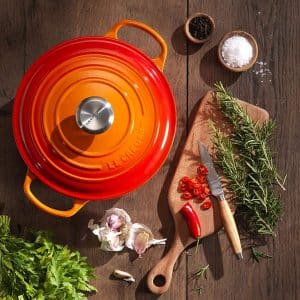 Today we are going to talk about a very special cocotte. We refer to the Cocotte Le Creuset, one of the best casseroles, also one of the most premium and… by extension, one of the most expensive.
It is an iron saucepan that has many useful features when cooking and preparing your food. A handmade production, made one by one, gives rise to indestructible pieces. These Le Creuset Evolution Cocottes have been handcrafted in France since 1925. They are iron casseroles that have been in our kitchens for many decades, but are they worth what they cost? Let's see it!
Before, we leave you with a short video of the preparation of a recipe by American Chef Shannon Walker.
Le Creuset Kitchen Sessions with Preservationist Chef Shannon Walker – Beans and Cornbread
MATERIALS
One of the highlights of this Cocotte Le Creuset Evolution casserole has to do with the fact that it is made with materials of high resistance, durability and quality. This makes it a super strong and healthy kitchen accessory for the preparation of a wide variety of recipes.
It is a round casserole with which you will have the opportunity to prepare rice, fish, legumes, vegetables, meats, as well as soups, jams, even sauces. In fact, this casserole is ideal and completely suitable for baking breads, cakes and pies.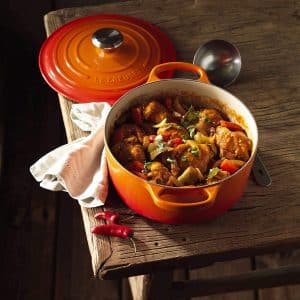 You should know that the Cocotte Le Creuset Evolution is made of cast iron, that is, one of the best materials for cooking, since it is an excellent conductor of heat. Therefore, you do not have to worry about your food not reaching the doneness you want.
Cast iron or cast iron, as it is also known, is a type of fusion of the most used. It is a ferrous alloy with more than 2% carbon and more than 1% silicon. This alloy makes this cocotte le creuset a utensil capable of withstanding the maximum abuse. After 15 years, your old Cocotte will still be in the kitchen like the first day.
In addition to cast iron, this casserole has another material that is equally strong and durable: stainless steel. In this case, the stainless steel is in the lid knob, therefore you can be sure that when you uncover the saucepan you will do it comfortably and safely.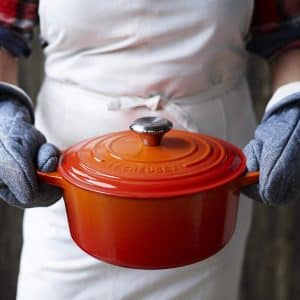 ENAMEL
The interior of the Cocotte Le Creuset Evolution is enamelled. What does this mean? Well, very simple. This glaze is the closest thing to a non-stick surface, but natural. Free of PFOAS, PTFE or any other chemical to which we are accustomed, this Cocotte Le Creuset is absolutely natural.
The enamelling ensures that nothing sticks to us while we sauté something or start preparing a stew. It is one of the great benefits of this Coccote. Other iron models lack enamelling and food can sometimes stick. This is a premium casserole and it shows in these details.
Finally, another great advantage of glazing over cocottes that are not, is that it prevents the casserole from absorbing any type of smell or flavor. If you prepare fish and then want to make a cake, you will not have any problem. And that is also something that can and should be required of a premium cocotte.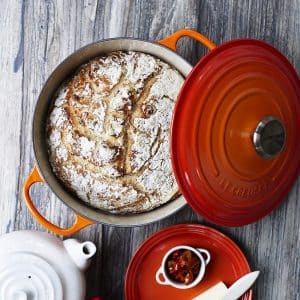 COMPATIBILITY

Let's talk now about compatibility, which, as we have said on other occasions, is a very important aspect that is sometimes overlooked. La Cocotte Le Creuset Evolution has been designed so that you can use in any type of cuisine.
In this way you can use this casserole in all kinds of heat sources, including induction and glass ceramic hobs. Not only that, you can also use it in the oven without any problem and once it is time for cleaning, you can also put it in the dishwasher.
You can even place your food or stews in this saucepan in a refrigerator to keep them at a suitable temperature. It is also important to note that this cocotte has been made by hand, so it is necessary to value all the benefits of a handmade product.
Do you want to see the Le Creuset factory from the inside? Here you have the video!
Le Creuset Factory Tour
MAIN FEATURES

Although it is a single kitchen utensil, it actually offers us many advantages when it comes to preparing food and stews.
To begin with, this is a round casserole from the Evolution range, which offers the same essence of the traditional range, but in this case with three very important improvements: a much more resistant enamel, a perfected design and it is also much more ergonomic.
Thanks to being made of cast iron, this saucepan makes it easy to retain and distribute heat evenly, not to mention it has no overheating points.
That's not all, is pan also comes with a stainless steel knob, which is highly resistant to any temperature, even up to 180 ° C.
The casserole is also equipped with handles that provide an excellent grip thanks to its ergonomic design.
In addition, the interior and exterior surface of this casserole is enameled, which means that it does not absorb moisture, nor does it absorb the smell or taste of food. That is, you could prepare hot sauces without worrying about the heat being impregnated in the casserole.
We already said that this Cocotte Le Creuset is compatible with any type of kitchen, from vitroceramics, induction hobs and can be used in the dishwasher and also in the refrigerator.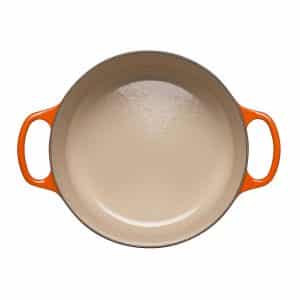 ADVANTAGES OF THE COCOTTE LE CREUSET
Another aspect that we must highlight is that the casserole has been designed so that you can easily wash it.
You can cook and prepare all kinds of dishes and meals without worrying about the food being burned or raw. Its heat distribution allows cooking to take place without problems, preserving all the nutrients in the food.
The 24 cm casserole has a 4.2 liter capacity, which means you can prepare food for 4-6 people.
The lid of this casserole has built-in stabilizers that aim to maintain the flavor of the food inside, providing a more secure fit, not to mention that the rings and branding are improved to offer a better visual appeal.
Regarding the dimensions of the 24 cm cocotte, this casserole measures 32.5 cm long, 25.2 cm wide and 16.6 cm high.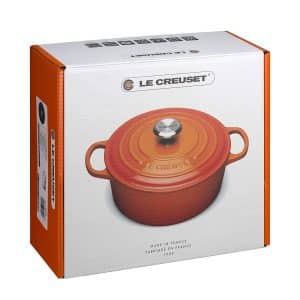 DISADVANTAGES OF THE COCOTTE LE CREUSET
Of course there are always some drawbacks that must be taken into account so that you can make an appropriate purchase decision.
The main drawback, as with this type of casserole, is its weight. This casserole weighs 4.27 kg, so it can be somewhat difficult to handle for some people.
For some buyers, external glazing has a rough appearance, although it does not interfere with its functionality. It is typical of the hardness of this cocotte, remember that it is made to last decades.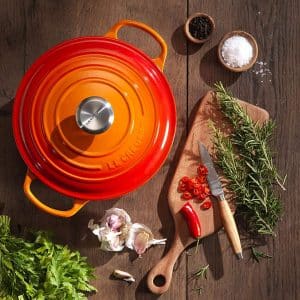 ALL THE SIZES
The advantage of a Premium Cocotte like this Le Creuset is that you will always have all the spare parts, colors and sizes you want. You do not believe it? Look, from 18 to 30 cm !
Maybe you are interested
In the final analysis we consider that the Cocotte Le Creuset Evolution casserole is a kitchen utensil that offers everything you need to prepare a wide range of dishes. It is resistant and durable, made with high quality materials and with an impeccable design.
But if you are looking for something cheaper, then you might want to take a look at the Cocotte Staub. It is a French product, of the highest range but it may be easier for you to find an offer in these Cocottes Staub than in the Evolution. They are very similar and with the one you buy, you will have Cocotte for decades.