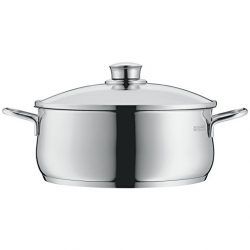 When we talk about the WMF brand we know that we are talking about quality. These WMF Diadem Plus can boast an outstanding quality / price ratio. The quality of the prestigious WMF firm available to everyone.
Even being one of the most economical kitchen batteries of the German firm, it does not lose any of its characteristics. Thus, it comes in a set of five saucepans Diadem Plus of 18/10 stainless steel quality that we are accustomed WMF. Its patented Cromargan finish is a guarantee of durability.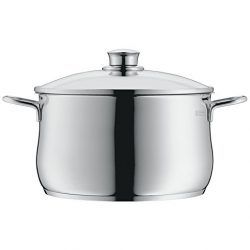 Materials
This Cromargan steel gives Diadem Plus a polish that always shines as if you just bought them. Even if the casserole is ten years old, the shine of its steel will be like that of the first day. A steel of this quality, and finishes of this level can only be achieved by those who have been manufacturing for more than a hundred years.
In the case that concerns us today, the Diadem Plus cookware is presented in a set of four or five pieces. Although a 3-piece set is also available in, we really believe that the difference in price is worth the four.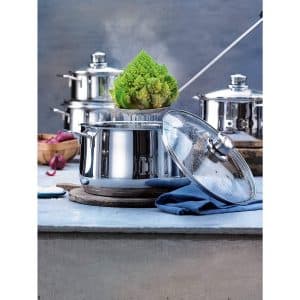 German quality; Timeless design
Anyone who buys something from WMF knows that it is for the quality of a German firm with a hundred years of experience. But it doesn't neglect design either, and this WMF Diadem Plus flaunts it. As we can see, its design is slightly domed. This gives them a very elegant classic touch. Doesn't it remind you of old French kitchens?
The advantage of this type of design is that they will never go out of style. In ten years they will look the same as they do today, and they would still be very pretty. Their rounded handles do not transmit any heat, so they can be handled without any risk even if the pot is on fire.
This Diadem Plus cookware comes with four glass lids for each different diameter. The glass lids withstand the highest temperatures and perfectly closes the pot. We believe that the glass lids are essential to be able to see the inside of the casserole without having to open it and lose temperature.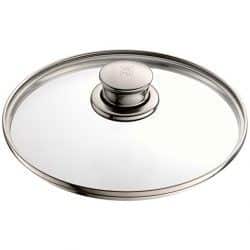 Technical characteristics
In addition to a beautiful design, as we are seeing, the WMF Diadem Plus are much more: the guarantee of someone who has been manufacturing high-end kitchenware for more than a century. In their design, they have incorporated the TransTherm base, the result of the innovation of the German firm. This base achieves a very fast diffusion of the temperature.
And when we say very fast, we say of the best on the market. The minute you put the pot on the fire you will no longer be able to touch it without burning yourself, and that means significant energy savings. This although a priori does not seem important, it is. It's not just about heating up fast, it's about heating evenly.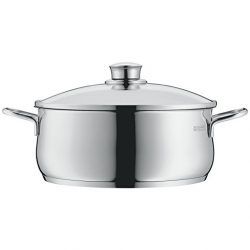 This WMF TransTherm base also allows it to be compatible with all types of kitchens. You can use your WMF Diadem Plus in induction, glass-ceramic, gas or electric cookers. Of course, you can also finish your recipe by putting the casserole in the oven. Of course, if it goes with tapas, we advise you not to exceed 180ºC. If you usually cook in the oven with very high temperatures, we advise you to look at a model with stainless steel lids.
If you are considering changing your old cookware, WMF is one of the best options. Their experience, quality and design are unrivaled. It is true that its German manufacture is paid, but in this case, these Diadem Plus are the cheapest and, without a doubt, the best in quality / price ratio.
Advantages of the WMF Diadem Plus
The highest quality from one of the oldest German manufacturers.
18/10 Cromargan stainless steel does not lose its shine with use or age
Its design is very careful.
They can be stacked on top of each other (except one), which facilitates storage
They have a glass top to see the inside without lifting the cover.
Disadvantages of the WMF Diadem Plus
Its price is higher than general brands.
One of the pots does not fit completely over the other, so it cannot be stored on top taking up the minimum space.
Between you and me
If you are looking for a practical cookware, with robust materials and manufactured with the highest quality standards, you are facing one of the best options on the market. WMF is a German firm that since 1853 has been manufacturing kitchen utensils with the best possible stainless steel.
A great advantage of buying a firm like WMF is the quality guarantees that it offers. The firm meets the demanding quality standards of the European Union and its stainless steel does not give off any heavy metal that can be transferred to food. Many people prefer not to skimp on these things and that is why we always advise buying household items from brands that ensure good quality standards.
If we had to summarize the characteristics of this WMF Diadem Plus we would do it with: Resistance, health protection and an extraordinary quality / price. Are there cheaper cookware? Possibly. With a better quality / price ratio? Very difficult.
Maybe you are interested
If this cookware has not convinced you, we advise you to take a look at the Zwilling Essence. It is another of the three that we select as the best quality / price of the high range. It is also a hundred-year-old German firm but they are more focused on practicality and robustness than on aesthetics.