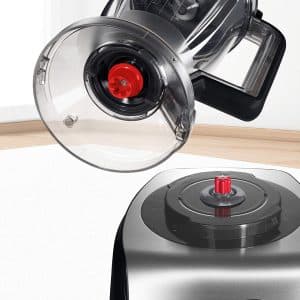 Bosch presents the Multitalent 8 Kitchen Robot, from its Multitalent range of food processors. It is a versatile, fast, comfortable and easy-to-use complete food processor that will save you many heavy and repetitive kitchen tasks, and will be able to process food with perfect results. It is capable of chopping, kneading, whipping, mincing small amounts of food, cutting, squeezing, etc.
Like the best Kitchen Robots, this Multitalent 8 is very fast and versatile, and thanks to its utensils, we can elaborate a lot of kitchen functions without much effort and saving us a lot of time and work. This robot stands out, above all, for its speed in the execution of tasks. Let's take a closer look at it!
Ranking Top3 Best Kitchen Robots
Materials
Like all the firm's robots, this Bosch Multitalent processor robot is made of high-quality stainless steel and BPA-free Tritan plastic.
Capacity and Power
The Bosch Multitalent has a capacity of 3.9 liters, and a power of 1250W, to carry out all its food processing functions with all professionalism.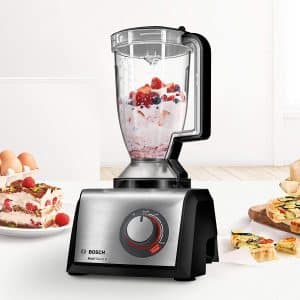 Main functions of the Multitalent 8 Food processor
The Bosch Multitalent 8 Kitchen Robot , thanks to the wide variety of accessories it contains, is capable of processing all kinds of food in record time, with perfect cuts, textures and with minimal effort in the kitchen. Its main functions include the following:
The most outstanding and novel is its intelligent detection system of tools, which automatically establishes what is the correct speed for each accessory and for each culinary task.
It has up to 50 food processor functions. It is capable of crushing, grating, whipping, mixing, squeezing, mincing, and making different cuts with total precision.

Its container has a 3.9-liter capacity, and a 1.5-liter blender jug.

Its accessories include a small mincer to chop small quantities: herbs, spices, nuts, etc.

Variable speed adjustment, with an LED indicator to adjust the processing speed, according to each type of food.

Time to chop function and pulse function for creams and shakes.

Accessories: jug, juicer, laminating and grating discs, whisk rods, chopping and shredding blades, a mini chopper, and kneading accessory for light dough and whipping cream or whites.

Security system, which prevents start-up if the cover is not properly installed. Its rubber feet make it a highly stable appliance when it is working.

Its blades are very precise when cutting and working: the wave blades cut

perfectly even the most fibrous foods such as leek, and the mixer is capable of preparing puff pastry, cookies, or sponge cakes.

It can slice fruits and vegetables, with different thickness, in addition, it grates vegetables and fruits with finer and coarser gratings and is capable of grating harder foods such as nuts, with unbeatable results.

Professional whisk rod, to whip egg whites or meringues, perfect for pastry products

Contains a juicer for juices.

Dishwasher safe accessories.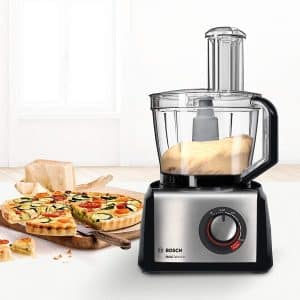 Advantages of the Multitalent 8 Food processor
It is designed for large quantities of food, since its 3.9 liter capacity of the container can process up to 1.5 kg of food (to make dough, for example), perfect for many servings.

One of its main advantages is the multifunction, which saves a lot of time in the kitchen, in the development of heavy tasks. The robot can chop, grind, beat, grate, or squeeze, in a single container.

Saving time and also kitchen pots, thanks to its utensils.

Intelligent tool detection system, which automatically establishes the correct speed for each accessory.

Intuitive and easy-to-use robot.

Its security system allows the robot not to start if it is not perfectly closed.

Easy to clean, dishwasher safe utensils and accessories.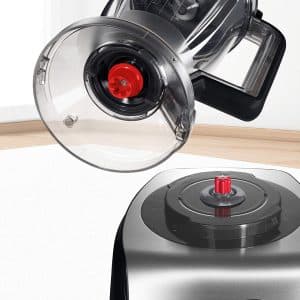 Disadvantages of the Multitalent Kitchen Robot 8
This robot works very well, backed by the prestige of a brand like Bosch. Perhaps the only drawback detected is that due to the amount of accessories it includes, it takes up more space to store in the kitchen, although it is true that it replaces many other pots that we are no longer going to use.
Between you and me
The Bosch Multitalent 8 kitchen robot is a very suitable appliance for people who use food processors very frequently, since it is capable of grinding, kneading, chopping, whipping, grating or cutting with its different utensils, facilitating work, and saving a lot of time in the kitchen, in heavy and repetitive tasks, with excellent results in everything you do. In addition, both its materials and the power of the motor, make it resistant to continuous use for such everyday tasks as making a juice or a smoothie, which can be consumed daily.
It is a very versatile and easy-to-use robot, thanks to its LED screen. One of its most outstanding and innovative features is its intelligent detection system, which automatically establishes the correct speed for each accessory.
Its value for money, given its versatility, is more than interesting. And the Bosch brand is also a guarantee that we are going to acquire a high-quality appliance at a great price.
Maybe you are interested
If this robot is not the one that convinces you the most, you may want to take a look at the Kenwood Multione robot , which also processes food and has similar features: squeeze, blend, cut, beat, grate and chop. It works in two differentiated areas, the preparation area and the mixing area, and has five variable speeds, with electronic speed control. Its anti-splashing lid with a hole makes it easy to introduce food if we have forgotten any, while the robot is working.
Its accessories are the following: juicer, blender, cutting blades, slicing and cutting discs, K-mixer, meat grinder, dough hook mixer, juice accessory and potato cutting accessory. All are easy to clean, and dishwasher safe.