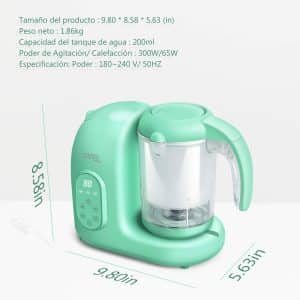 The UPPEL 5-in-1 multifunction Kitchen Robot is a novelty in the Spanish market for kitchen robots specialized in babies, which is having great success given its features and good value for money. It is very easy to use and has five basic functions for the first stages of feeding the baby: shaking, steaming, blending, blending and disinfecting. Let's see all this in detail!
Materials
This Uppel baby food processor is completely safe for our little ones. It has the maximum safety guarantees as it is manufactured with resistant and high quality materials for daily use, free of BPA.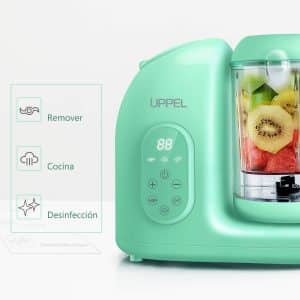 Capacity and Power
The Uppel Food processor for babies has a capacity that is in the average of the market. It is not one of the smallest nor the largest, and it is more than enough to prepare a few servings. Its water tank and jug capacity is 200ml, and heating / shaking power is 300W / 65W.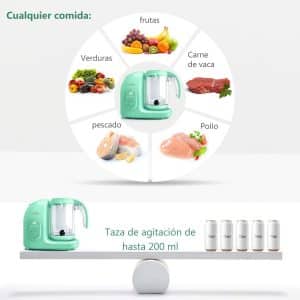 UPPEL Food Processor Main Features
The UPPEL Food Processor has a series of very useful features for parents without much experience in feeding the baby in its first solid feeding stages, since it is very simple to use. Among its main characteristics, the following stand out:
5-in-one multifunction robot . Stir, Blend, Blend, Steam, and Sanitize functions.

It can also be reheated, heated and thawed.

Easy-to-use touch screen for selecting the desired function.

Timer and manual time setting.

Energy saving thanks to its powerful high speed motor.

Nutrient locking system, with bottom-up steaming, so that vitamins from food are not lost
Anti-dryness safety system with microchip control: when the water tank is empty, the robot will automatically turn off, to avoid accidents in the kitchen.

Mixer with different speeds and rotating blades, so that the purees have different textures and adapt to the baby's feeding stages.

Accessories included: jug, detachable steel blade, steamer basket and tongs.

Its accessories are easy to assemble and disassemble, and cleaning is very simple.

Quick steaming at 360º, so that baby's food is ready in just 3 minutes. Uniform heating.

High temperature steam disinfection function.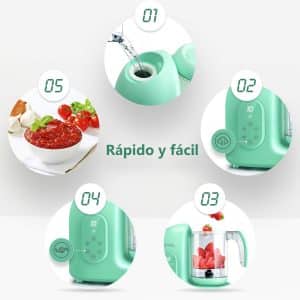 Advantages of the UPPEL Kitchen Robot
The UPPEL Kitchen Robot is very handy thanks to its touch screen with separate buttons for each function. Its versatility and ease of use make it the ideal robot for parents with little experience in feeding their babies. Its main advantages include the following:
High power of its motor, which favors energy savings in its daily use.

Timer to calculate cooking times, and manual adjustment.

It performs four of the functions necessary for the first stages of feeding the baby, saving time and the use of other kitchen utensils, and it is also capable of heating, reheating and defrosting.

Disinfection function so that all the utensils we use are in perfect hygienic conditions

Energy efficiency thanks to the power of its engine. We will save on the electricity bill in its daily use.

Healthy steaming and nutrient locking system so essential vitamins and nutrients from food are not lost.

Its mixer with three speeds and rotating blades makes it possible to mix purees with or without food pieces, so that the meals are adapted to each stage of the baby's feeding.

It has a recipe book, in English, which is very useful, especially because it includes special recipes for soft diets, since it is very common for babies to have stomach and digestion problems in the early stages of solid feeding.

It is a useful and resistant robot in its daily use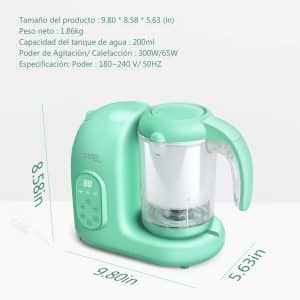 Disadvantages of the UPPEL Kitchen Robot
The water tank and carafe capacity is limited, so many foods cannot be steamed. A recipe book in Spanish is missing, to make the most of the cooking recipes that the robot includes.
Between you and me
The UPPEL kitchen robot is a very suitable robot for first-time parents who do not have much experience in the first stages of feeding their baby, since it is very easy to use, thanks to its touch screen with well-differentiated function buttons. It is a robot with 5 functions in one: shaking, blending, whipping, steaming and disinfecting, which is also capable of reheating, heating and defrosting purees, saving considerable time in the kitchen, and also the use of other pots and pans. Utensils. Thanks to its energy efficiency system, we can use this robot on a daily basis without the electricity bill suffering.
Its anti-dryness safety system is very useful, since the robot will turn off automatically, to avoid overheating and accidents in the kitchen. It has a timer to calculate cooking times, and the possibility of manual adjustment. In addition, its accessories are easy to assemble, disassemble and clean, and also easy to store, they are stored without taking up much space in the kitchen.
Its only drawback is the limited capacity to process food, since it has a 200 ml capacity jar, although it can also be very useful for parents who are going to cook only one or two servings a day, as this avoids wasting food . Your recipe book is very useful (even if it is in English) especially to take a look at soft diet recipes, if the baby has digestive problems, something that is very common in his early stages of solid feeding.
Maybe you are interested
If the UPPEL Kitchen Robot is not what you are looking for, you may be interested in consulting the features of the Babymoov Nutribaby Robot, with the ability to cook and blend at the same time, to save more time on kitchen work. In addition, it has a timer and automatic stop so that each ingredient can be cooked according to the necessary cooking time, and it has a useful receptacle for the cooking juice, which preserves all the vitamins and nutrients of the food, and that can be used for a broth or to rehydrate purees. Steam cooking in two separate baskets so that the food can be cooked, depending on the time it takes, and that it does not lose its essential nutrients or become too soft.