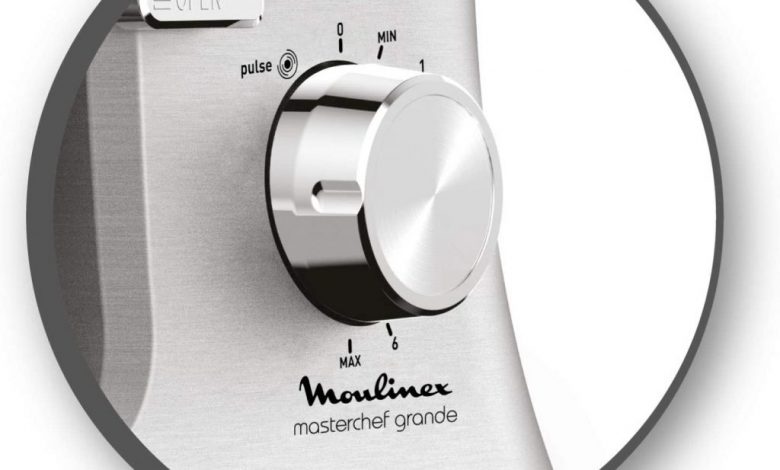 If you are one of those people who love to make pastries or bakeries at home, perhaps it is time to invest in a professional kitchen robot. This time we will try to analyze the Moulinex MasterChef kitchen robot in its different versions, Gourmet and Grande. This type of robot hit the market a few years ago, but until relatively recently the prices offered by certain brands made it difficult to acquire for the general public.
Fortunately, these high-performance products are becoming more and more accessible on the market. Although they are adapted to less professional uses, they retain all the functionalities and guarantees to achieve excellent results. This Moulinex MasterChef kitchen robot is one of the most complete and can be easily purchased online at an excellent price, accessible to everyone.
Next, a comparison will be made between the Moulinex MasterChef Gourmet and Grande kitchen robot models
Ranking Top3 Best Kitchen Robots
Features of the Moulinex MasterChef Gourmet Kitchen Robot
This kitchen robot will provide an extra quality to all the recipes that are prepared with it thanks to its qualities and the elements that accompany it.
It is silver in color and its container is made of stainless steel, with a resistant plastic lid to avoid splashing while preparing any recipe.
It comes with different elements, in addition to the steel bowl and the lid. These accessories are designed to create the perfect combination to achieve the best results: the Felx Whisk rods (for counting whites), the Felx Bowl (silicone container) and the Delica tool (for desserts). In addition, it comes with a recipe book, ideal for taking the first steps in this world.
The silicone elements are perfect for light or delicate preparations.
It has a power of 1100 W, which is ideal to adapt to any pastry or bakery recipe. It has 8 types of different speeds + plus. Thanks to its Flex Whisk technology, it will mix perfectly, ensuring that the ingredients are united and perfectly integrated.
The capacity of its 4.6 liter stainless steel bowl ; It is perhaps one of the differences it has with other models of the same brand. It is a good size, which allows you to make large quantities of products, be it whipped cream, bread dough or sponge cake.
It has a design that allows the rods to reach all corners of the container. In addition, it comes with three different models, ideal for either mounting, mixing or kneading, which offers excellent results.
Suitable for preparing both sweet and savory doughs thanks to its cast iron accessories, which are the rods and the hook, perfect for resistant doughs.
The product weighs 7.24 kilos and has measurements of 42.44 x 25.74 x 32.42 cm. It is very compact, which makes it easy to store and move when required.
Most of its elements are dishwasher safe, which allows a more thorough cleaning as well as simple.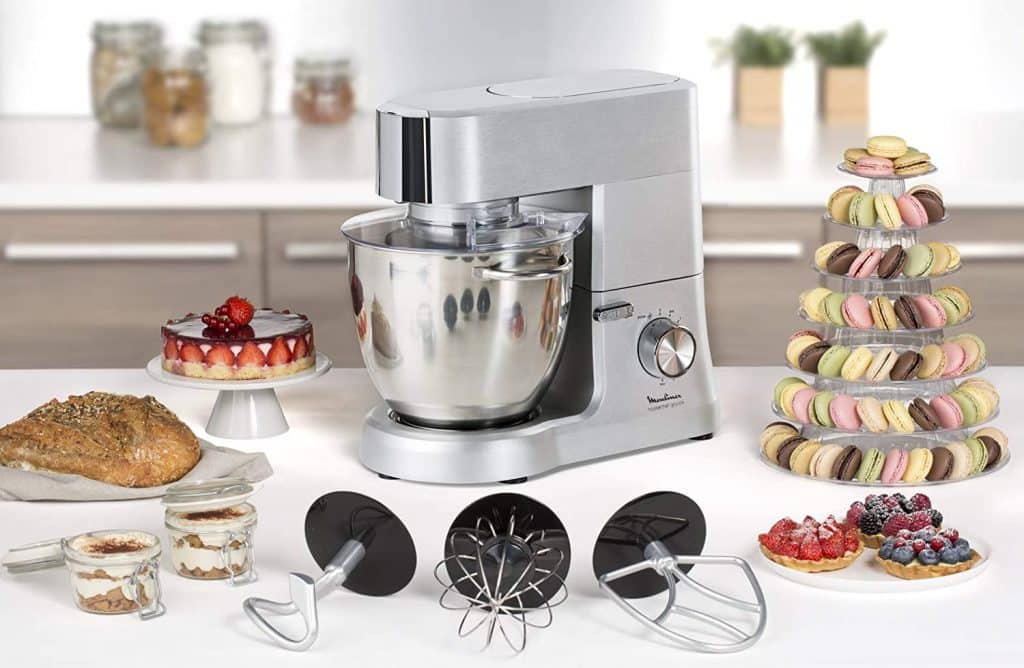 Features of the Moulinex MasterChef Large Kitchen Robot
Once we have analyzed the Moulinex MasterChef 1100 W kitchen robot, we will analyze the same model, but with 1500 W. Deciding to buy one model or another will depend a lot on each user and their needs.
It is finished in high-quality, metallic-colored, pressure-molded stainless steel. It is very elegant and looks good in any kitchen.
Most of its parts can be easily put in the dishwasher.
Its stainless steel bowl has a large capacity of up to 6.7 liters, which makes the difference with the previous model, as it is larger. Professionals say that you can beat up to 16 egg whites at the same time, create dough for 26 cupcakes or 10 pizzas.
The movement it has when beating is the dual oscillator. On the contrary, when it is with the kneading head, it rotates in opposite directions to provide a smooth and homogeneous result in the doughs.
This robot has a special kit for kneading, mixing and whisking: it comes with a metal dough hook and two beater rods that are perfect for daily use.
It includes a recipe book that helps to challenge the limits of the users, since it allows to create very simple dishes as well as sophisticated.
The complete product weighs around 10.5 kilos and has dimensions of 38 x 29 x 37 cm. It is not small, but it is very compact, which allows it to be moved and stored comfortably in any corner of the kitchen.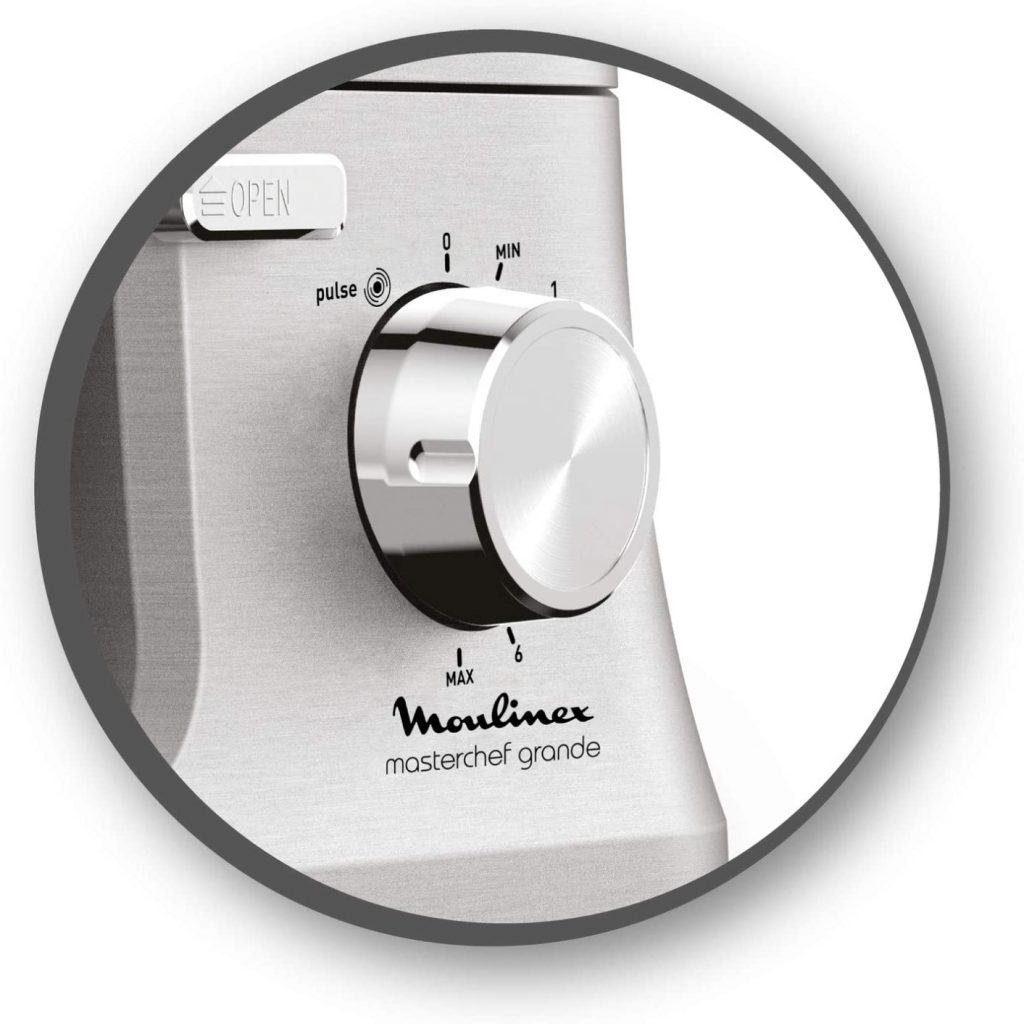 Advantages and disadvantages of both models
Both models are very similar; the big difference is the power and accessories. If you want to make harder doughs or large amounts of product, the Moulinex Masterchef Grande is a better option, given its power and capacity. Being larger, it can be used for other purposes, such as inside bakeries or pastry shops, in which different preparations and doughs are produced very continuously.
If you are looking for something more domestic, with less volume and for somewhat simpler recipes, the 1100 W is perfect for any user; In addition, it brings a wide variety of accessories, which are very useful.
Maybe you are interested
If these two robot models do not convince you or they are not what you are looking for, there is a wide variety of kitchen robots on the market specialized in preparing dough, with different sizes, accessories, shapes and blades.
As an alternative, we have the Kenwood Chef Kitchen Robot, which is a slightly higher priced option; It even has the ability to cook by induction very quickly and safely, which facilitates the creation of a wide variety of recipes. It is a more complete product, which has a large capacity, which is very useful for different types of families.