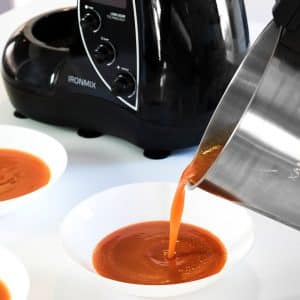 The Cecotec IronMix kitchen robot is a great ally in the everyday kitchen. It has 22 cooking functions, and a series of features that are essential for preparing all kinds of recipes. This robot will delight the most fans of cooking, and also the most gourmets, because it is really easy to make an outstanding recipe with very few steps and in a very intuitive way.
The young Valencian company Cecotec triumphed a few years ago with its magnificent programmable cooking pots. They always bet on the application of the most innovative technologies in small household appliances, and recently they have made the leap to multifunction kitchen robots, with the same philosophy and with excellent results.
Their robots are excellent value for money, with functions very similar to those of considerably more expensive kitchen robots. They are having great success among the most demanding users, for their great performance in the kitchen, and for the ability to prepare very varied recipes, always with impeccable results.
We leave you a short video of everything that this kitchen robot can do.