We have to say that we have a weakness for this German brand, so we wanted to write this article about the WMF Devil. This brand has always been characterized by the quality of its products.
In this case, the Bavarian firm WMF presents us with a frying pan that will try to maintain the height of the rest of its products. Well maintained, this Devil from WMF will be a very non-stick and almost timeless frying pan . If you're not especially careful, it will soon end up in your garbage. Let's see why.
MATERIALS
WMF, as always, uses Cromargan stainless steel for its products. This finish on the steel ensures that all products manufactured by WMF always have an exceptional shine. Although time passes, they will shine like the first day.
Although its outer part is finished in stainless steel, the inner part is covered with a ceramic surface . This ceramic will be in charge of providing it with non-stick.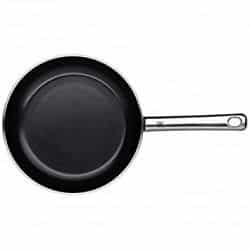 In terms of compatibility, note that WMF Devil pans are fully compatible with all types of kitchens. They will work perfectly in induction, glass-ceramic, gas or electric cookers. In addition, it is also possible to place this pan in the oven !
Its materials are super resistant, therefore they withstand temperatures of up to 400º C on the cooktops and up to 250º C in the oven. It is perfect to start a recipe on the glass ceramic and finish it gratin in the oven.
This Devil frying pan has an anti-heat handle to protect our hands from high temperatures, and the 32-centimeter version also includes a practical handle for easy handling.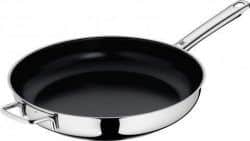 ANTI-ADHERENCE
The non-stickness of these Devil pans, WMF entrusts it to its own ceramic coating. It is a layer that covers the base of the pan and the sides of the inside.
Whenever we have to talk about ceramic surfaces, we emphasize the same thing. They are excellent non-stick surfaces but have certain peculiarities.
They are not suitable for everyone, since for maximum non-stickiness you have to be careful. For this reason, WMF recommends washing these pans by hand.
The ceramic coating is as non-stick as it is delicate. In good condition it will work like a sheet of oil, but if it is damaged using metal utensils in the pan, they will be left to throw away.
It is not difficult to find negative comments from people who have bought this Devil pan and who after making a recipe using metal forks or knives on the pan, they say that it is no longer non-stick.
Ceramic, on the positive side, is very very non-stick, very stable and really healthy as we will see later.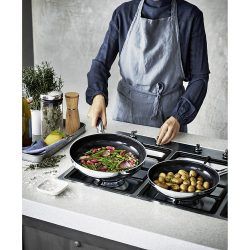 HEALTH
In this aspect we must analyze the only two materials that make up this pan.
Stainless steel : it is the safest material that can be used in the kitchen after glass. We are sure that it does not contain any substance that is harmful to our health, and more so if it is of quality. And WMF Cromargan steel is of the highest quality.
Ceramic surface : The non-stick surface of this WMF Devil frying pan is very stable and is free from dangerous PFOAS. When cooking on a ceramic pan, no toxic substance will be transferred to our food. In that sense, we can rest easy.
SPECIAL FEATURES
These WMF Devil pans, designed and manufactured in Germany, feature few but proven technologies:
Cromargan stainless steel : The well-known 18/10 steel from the WMF firm is renowned for its quality. It is extremely resistant, perfectly withstands the passage of time and its shine never fades.
TransTherm base : this diffuser base from WMF guarantees a rapid distribution of heat over the entire surface of the pan. This ensures that the entire surface of the Devil frying pan is at the same temperature and there are no oscillations to prevent one part of the fillet from cooking before the other.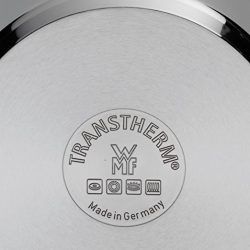 BETWEEN YOU AND ME
We are in an exceptional frying pan, but with exceptions. It is a ceramic frying pan, very non-stick, robust like (stainless) steel and, in addition, very aesthetic. The chrome finish makes them immune to the passage of time.
However, their biggest drawback is that the non-stick ceramic surface can be easily damaged. Using utensils that can grate it, they will go to waste. But if you are careful, due to its finishes, robustness and quality, you will have a pan for half a life.
ADVANTAGES OF THE WMF DEVIL PAN
WMF Cromargan steel is the best guarantee of life.
Aesthetically they are excellent, neat and robust.
They can be used in induction and furnaces (up to 400 and 250 ºC respectively).
DISADVANTAGES OF WMF DEVIL PANS
Its price is usually somewhat high, since for little more you have much better Le Creuset pans
You have to be careful with the ceramic surface, which is quite delicate.
WHAT ALTERNATIVES ARE THERE?
If what you want is something similar but with a more resistant non-stick surface, we recommend the Kuhn Rikon Silver Star frying pan made in Switzerland. This frying pan costs practically the same, it is also made of stainless steel but its coating is made of Titanium.
If what you want is to go to a higher range assuming a small extra cost, Le Creuset iron pans have been and are the most resistant and famous pans by the best chefs in the world.