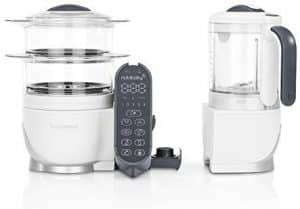 The Babymoov Nutribaby Kitchen Robot is a perfect multifunction robot for both baby meals and for preparing recipes for the whole family, given its great capacity. In addition, you can cook the ingredients separately, to ensure that each food is just cooked.
This NutriBaby has a timer and audible and visual alarm, to ensure that food does not overcook. We leave you a short video that, although it is in French, suggests the main characteristics quite well. As we will see later, you will find it in several colors, although the technical characteristics do not vary. Inside video!
Cuit vapeur & mixeur pour les repas de toute la famille | Babymoov
Materials
The Babymoov Nutribaby Kitchen Robot is manufactured with high quality materials, BPA free for greater safety in feeding babies.
Ability
It has a total capacity of 2200 ml, distributed in 1500 ml. for cooking, and 700 ml. for the mixer.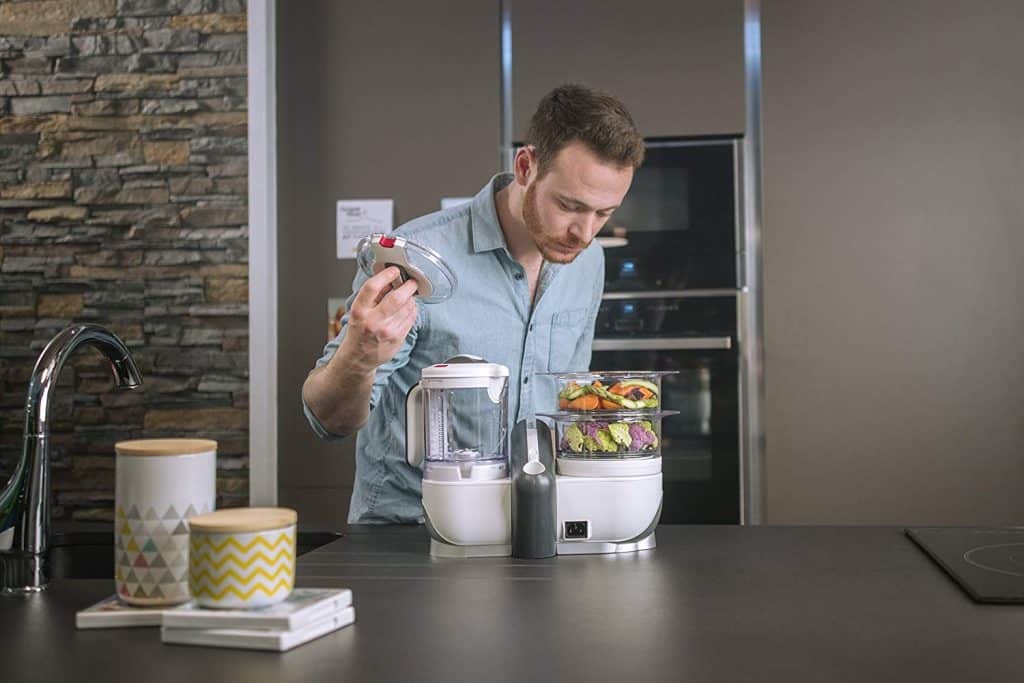 Main features of the Babymoov Nutribaby Kitchen Robot
The Nutribaby Kitchen Robot is a robot that is very resistant to daily use, with great capacity to prepare, in just one use, a week of meals for the baby, or a first course for the whole family. Its main characteristics are the following:
Five-in-one multifunction robot : steaming, blender, bottle warmer, sterilization and defrosting.

LCD screen with one button for each function.

Your mixer has 3 speeds

Ten adapted programs

It has five interchangeable colored shells, to match. They are sold separately

It has the capacity to cook and beat at the same time.
It has a timer and automatic stop of the robot, so that each ingredient can be cooked according to the necessary cooking time.

It has a receptacle for the cooking juice, which preserves all the vitamins and nutrients of the food.

Steaming in two separate baskets. The gentle steam cooking is ideal for cooking food for just the right amount of time: fruit, vegetables, meat, starches and eggs

It has 10 adapted programs and two visual and audible alarms.

Accessories: two baskets, mixer, removable blade and a silicone spatula.

The cooking baskets and the mixer are removable and can be stored separately.

The brand has a very complete blog and a customizable application to access recipes for babies, with a search engine for ages.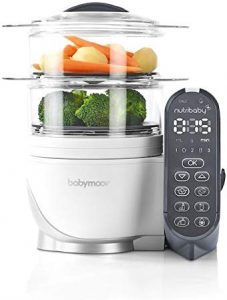 Advantages of the BabyMoov Nutribaby Food processor
This Babymoov kitchen robot is very useful and practical not only for the baby, but for the whole family, since it can make large quantities in a single operation, so it is valid for feeding the baby, and as a complement to the menu of a family. Its advantages include the following:
Like all Babymoov products, this robot has a lifetime guarantee, which ensures that we can use it whenever we want with all the guarantees that it will work in perfect condition, and this is a plus for families with children who are going to give it. I use the robot a lot on a daily basis.
Its five functions save time working in the kitchen, and the use of other pots, since the robot is capable of sterilizing, heating bottles and defrosting, in addition to performing its two basic functions of steaming and shredding.
The ability of the robot to cook and mix at the same time is a great advantage to save time in the kitchen

By having two different baskets, two different foods can be steamed, to prepare mild or more intense steam cooking, depending on the cooking time of each food.

It is ergonomically designed and the basket and blender accessories can be detached for storage. Takes up less space

The audible alarm system is very useful for supervising food cooking.

For baby food, the mixer has three speeds, which makes it easy to make purees with different textures, with or without pieces, depending on the baby's feeding stages.

The receptacle for the cooking juice is ideal for rehydrating purees or preserving it for broths, since it maintains all the nutrients of the food.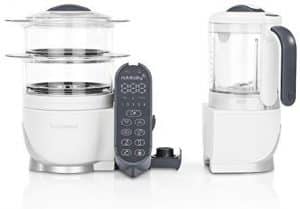 Disadvantages of the BabyMoov Nutribaby Kitchen Robot
No notable drawbacks have been detected.
Between you and me
The BabyMoov Nutribaby Kitchen Robot is a very practical robot for feeding babies, since it fulfills 5 functions in a single appliance. It is capable of grinding and steaming two types of food separately, which ensures that each one will always be at its perfect flavor point and will preserve its vitamins. Additionally, you can defrost, warm baby bottles, and sterilize. Its large capacity is optimal for preparing both the baby's weekly meal, as well as a part of the menu for the whole family. It is a very suitable robot for large families with children, due to its versatility for preparing food for babies and adults, because its large capacity is one of the main characteristics of this robot.
Its ergonomic design allows the baskets and the blender to be stored separately, so although it is a large robot, it can save space in the kitchen. It is highly resistant to daily use, and its lifetime guarantee is a plus to take into account when buying a kitchen robot that will last a lifetime in perfect conditions of use.
Maybe you are interested
If the BabyMoov Nutribaby Food Processor is not what you are looking for, you may want to take a look at the Zanmini Food Processor, a multi-function food processor capable of steaming, blending, blending, defrosting and heating, with a timer and Etherization, with manual time selection.
This robot also contains two steamed baskets, to be able to cook different foods separately, depending on the type of cooking they need. Its multiple safety systems guarantee that the robot will not start if the steam basket is not blocked. Also, the processor doesn't heat up if it doesn't have enough water in the tank. One of its main advantages is that it has an automatic cleaning system. The energy consumption of this robot is low, and it contains a complete recipe book.