Tips
Typical dishes of Toledo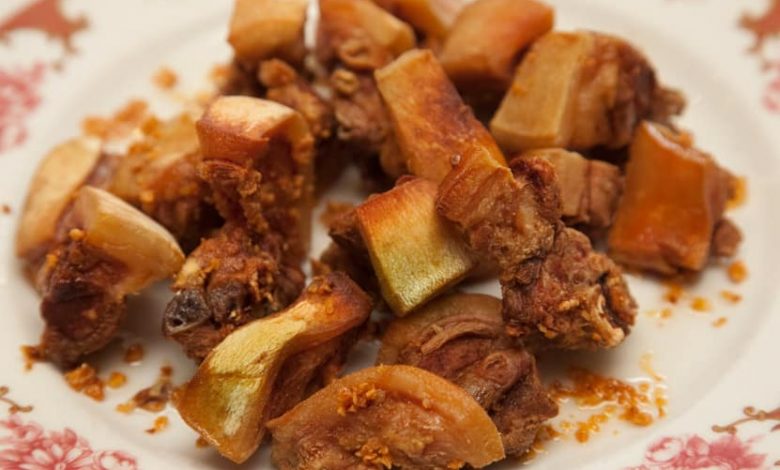 The gastronomy of Toledo is based mainly on hunting. Its cuisine is famous throughout Spain thanks to its different rabbit and partridge stews. In fact, the typical dishes of Toledo have earned the city the recognition of the Spanish Capital of Gastronomy.
Main characteristics of the typical dishes of Toledo
The traditional foods of Toledo are characterized by their intense flavors. They are made from popular elements such as stew, crumbs, stew and porridge. In addition, like the typical dishes of Murcia, vegetables and legumes are also used here.
As mentioned, poultry and small game stews are a fundamental part of Toledo's gastronomy. Therefore, it is common to find popular dishes such as stewed partridge, roasted pigeons, or hen in pepitoria.
As for Toledo desserts, marzipan and convent sweets are the most traditional.
These are the most traditional typical dishes of Toledo
Next, we take a tour of the most traditional typical foods of Toledo. All of them are worthy of appearing in any cookbook. In addition, many of its ingredients are easily available.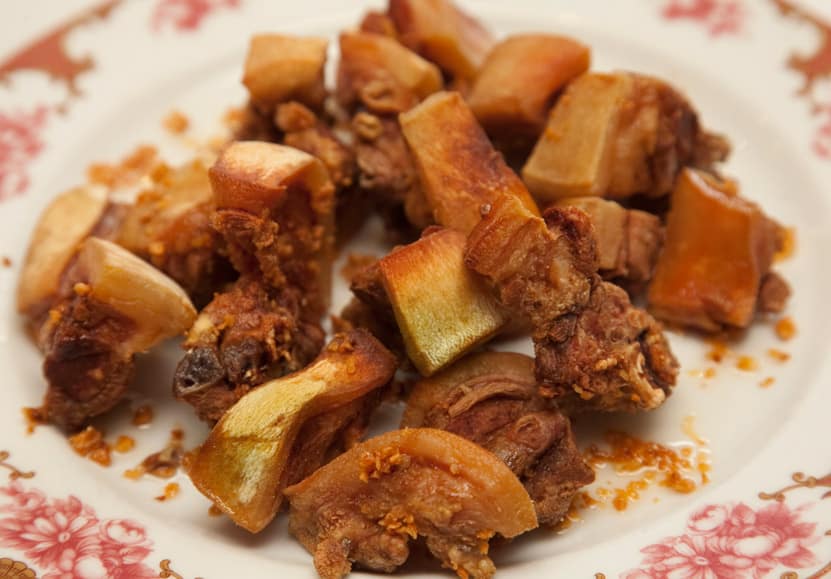 Garlic soup
It is also known as Castilian soup and is made with garlic, ham, paprika and olive oil. This stew also includes chicken wings, leek, parsley, carrot, chorizo, and candeal bread.
It is prepared by placing the chicken wings, ham, onion, parsley, leek, and carrots in a speed cooker. Add water and cook for 1 hour. After this, the ingredients are strained and the fat is removed with a spoon.
Then, in a frying pan, brown the garlic in olive oil. The sliced ​​bread is toasted in the same oil. Then the paprika is added and finally the broth is added together with the chorizo ​​and garlic.
Optionally when serving you can add egg.
Stewed partridge
It is undoubtedly the best known typical dish of Toledo. The partridge is cooked with aromatic herbs over low heat. This is done for several hours so that the meat is tender and juicy.
In addition to partridge, onions, garlic, bay leaf, wine and white vinegar are used in its preparation. Olive oil, a little salt and water are also required. The birds must be well cleaned and peeled.
Then the legs and wings are tied. Then they are placed in a saucepan with the bay leaf, onions, vinegar, garlic, salt, water and olive oil. The final touch is the white wine that covers all the ingredients.
Everything is allowed to cook for about two hours. Once the partridges are tender, they are then untied, chopped and the stew is served.
Cooked with three turns
It is also another of the most traditional typical dishes of Toledo. Different types of meats can be used in its preparation , as well as vegetables and pickles. Normally it is prepared in a pot over the fire for at least 5 hours.
However, this recipe can also be prepared with a pressure cooker. Beef, chicken and ham are often used. You also need cabbage, green beans, plus potatoes, chickpeas, squash, chorizo, blood sausage, and salty bacon.
One night before, the chickpeas should be soaked. The meats, along with the ham and bacon, should be cooked in a pot with water. Just before the meat is done, the chickpeas are added.
Then the vegetables, the blood sausage and the chorizo ​​are added. All this is cooked over low heat until the chickpeas reach their point. In addition, noodles can be cooked in the same soup.
Typical dishes of Toledo: Cochifrito
The cochifrito, sometimes known as the cuchifrito, is a typical recipe from Toledo. To acquire that crunchy touch of the suckling pig's skin. This must be prepared with a double cooking. The first cooking is necessary to tenderize the meat.
It is then fried to achieve the characteristic appearance and flavor. Its preparation is really simple. You just need 1 kg of chopped suckling pig, garlic and bay leaves.
The meat is placed in salted water and bay leaves. Cook over low heat for approximately 20 minutes. Then the meat is drained and reserved. Then, in a frying pan with enough oil, fry the garlic.
Then the meat is incorporated and cooked until it is well browned.
Stew
La Caldereta is a traditional dish from Toledo and La Mancha gastronomy in general. It consists of a lamb meat stew that is cooked over low heat. It also incorporates peppers, tomatoes, onions, white wine, and garlic.
The chopped lamb meat is fried in a pan with enough olive oil. The other ingredients are added raw and then everything is covered with white wine and a little water. After this, spices like black pepper and bay leaves are added.
The meat without moving should be cooked for 50 minutes. All the ingredients are mixed and care is taken to ensure that you always have enough liquid.
Rotten pot
To finish, this is a traditional Toledo dish that is also prepared with different meats. In its preparation, a pig's ear and tail are required, as well as rib and leg. You also need red beans, garlic, parsley, fresh breadcrumbs, and a little salt.
Red beans should be soaked overnight before preparation. In the morning what is done is to cook the marinades. Preferably, a pressure cooker should be used to cook the meats for 20 minutes. The blood sausage is cooked separately.
To prepare the fillings you have to mix the breadcrumbs with eggs, parsley, garlic and salt. It is then shaped into fritters using a couple of spoons. They are then fried in a sufficient amount of oil.
For their part, the red beans should be cooked in the marinade broth for 20 minutes over low heat. After 5 minutes the fillings are added to the stew and served hot.