Pans
Bra Efficient Orange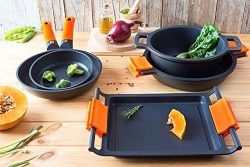 BRA surprises us with these high-end Bra Efficient Orange and with a more than careful design. These are actually the same pans as the standard Efficient but with a hint of orange design that makes them different. If they are more attractive in black or orange will depend on the taste of each one.
These BRA Efficient Orange pans already represent the best Tefal finishes, and for this reason we will observe that each edge, rivet or edge is cared for to the extreme. The truth is that this design change affects the price, since despite being identical, their prices usually vary.
As we said, on a technical level, the Orange pans share the same characteristics as the black Efficient ones.
Here we leave you with a short video in which you can see the main features.
VIDEO
TOSTA DE SETAS CON JAMÓN DE PATO Y HUEVO
Materials
These Orange Efficient from Bra, as in the rest, use aluminum in their construction. The difference lies in the bottom, which is 6 mm thick (higher than the others).
Using aluminum as a material has certain advantages. On the one hand, the lightness. Aluminum is a very light material so these pans can be handled perfectly with just one hand.
On the other hand, resistance. Without reaching the hardness of stainless steel, its durability is beyond doubt. And finally, the optimal heat distribution.
In addition, the 6mm bottom of the pans guarantees total compatibility with all types of kitchens. In this way, these Bra Efficient Orange can be used with induction, glass-ceramic, gas and electric cookers .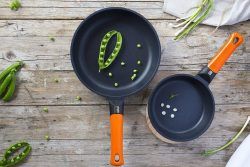 Non-stick
In this regard, this frying pan is equipped with Teflon Platinum Plus, almost the best Teflon on the market. It is one step away from Teflon Professional but, in practice, it will be hard, resistant, and will guarantee many years of life. Therefore, with respect to their non- stickness, BRA Efficient Orange more than fulfills their mission.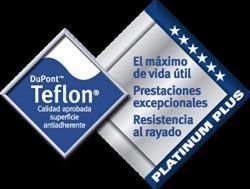 On the other hand, this Efficient Orange model uses Teflon Platinum Plus, and as we have already mentioned, Teflon no longer uses PFOAS in the construction of its materials since 2012. These pans are, therefore, free of toxic substances. Like all Teflon, we must be careful not to put the pan higher than 260º, but in practice this would spoil the pan and the food.
In addition, we must be careful with the materials we use to cook. In this way, we must avoid cutting the food on the pan as well as using metal utensils.
If what you are looking for is a frying pan that you can use very, very intensively, you should look at Titanium models such as the Tefal Expertise. Its price is somewhat higher, but it is also slightly more resistant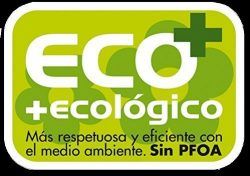 Technologies
Similarly, it has a 6 mm diffuser base with Save Energy System technology to heat up faster and distribute heat more efficiently. With this we achieve considerable time savings, as well as energy savings.
On the other hand, as mentioned above, ECO + technology keeps them free of PFOA and the Full Induction saving system will guarantee complete compatibility and optimal performance in induction hobs.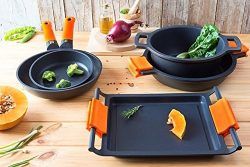 BRA Efficient pans
BRA Efficient pots
If you want a complete set and you are looking for quality pans to prepare spoon dishes, the BRA Efficient Pots are one of the best options. The same technologies that we have seen in these pans are applicable to the BRA Efficient Pots.
The advantage of these pots compared to the traditional stainless steel ones is that they have non-stick of the same quality as the pans. Therefore, we can start with a sauté or poach onions and then add the water and cook the chup chup.
POTS BRA EFFICIENT
BRA EFFICIENT POTS
Between you and me
In short, we have some great pans for intensive kitchen users. With a not very high initial investment and with minimal care, we will have pans for many years. These BRA Efficient pans will also give us a touch of design. They will not go unnoticed.
Its handle is ergonomic and elongated, allowing it to be handled perfectly with just one hand. It is ideal for especially weak or very old people.
In addition to being excellent high-end pans, they seem like it. Families who cook every day, who use the dishwasher a lot and the cookers that have no limits, will also appreciate these pans! And to top it all, with this Orange finish they tend to have a better price than the black BRA Efficient.
ADVANTAGES OF THE BRA EFFICIENT ORANGE PAN:
They are very inexpensive for being the high-end of BRA
Its non-stick layer is very high quality Teflon, very very non-stick
They are aluminum pans so they are really light
DISADVANTAGES OF BRA EFFICIENT ORANGE PANS
Like all pans with Teflon, you must be careful not to damage it by avoiding putting metal utensils such as knives or steel skimmers directly into the pan.
Its orange design may not appeal to everyone
Maybe you are interested
If you want cheaper pans, we advise you to take a look at the BRA Connect pans. The prices vary, but are usually lower unless these are on sale and are quite similar to these pans.
If, on the other hand, what you want are pans with Titanium so that they cannot be damaged, we strongly advise you to value the Tefal Character. They are a higher range and coated with Titanium, a safe bet for very little more.