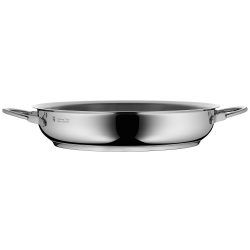 5This time we analyze the WMF Profi range , a complete collection of the prestigious and century-old German manufacturer, among which are these pans. It is a similar model (somewhat superior) to the WMF Favorit stainless steel frying pan
It is a frying pan made in Germany, of the quality to which WMF has accustomed us. In their construction they use a single material, with an antipyretic handle and handles, and in their design they are completely devoid of screws or rivets. With this they achieve a completely smooth, clean surface, without edges or joints.
This WMF Profit is available in three sizes of 20, 24 and 28 centimeters. In addition, it is possible to buy them with one handle or with two handles. This makes it easy to find the ideal frying pan. Are they worth it?
As always, we start with a short video in which it is possible to appreciate the finishes and cooking examples. In this case, they prepare a good steak, let's see.
VIDEO
Die WMF Pfanne Profi
MATERIALS
In this sense, the German firm does not complicate these Profi pans with novel compounds or last generation non-stick substances. They are made entirely of the brand's own 18/10 Chromargan stainless steel.
This stainless steel has been endlessly tested with outstanding results in everything that WMF has made for 160 years. They use Chromargan 18/10 Steel in express pots, kitchenware and of course, in pans.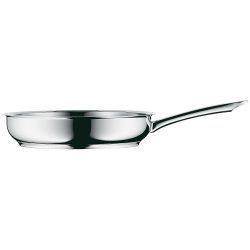 EXTREME RESISTANCE
This material has an advantage, and that is that it is resistant to everything. It is not possible to damage it even if you cut on the pan, even if you cook with a metal spatula, even if you pour cold water on the burning pan… It is a true all-rounder.
Regarding the compatibilities of this WMF Profi frying pan, it is compatible with all types of kitchens. It will work perfectly on induction, hob and gas cookers . And with respect to the dishwasher, more of the same, there will be no problem. As we say, it is resistant to everything.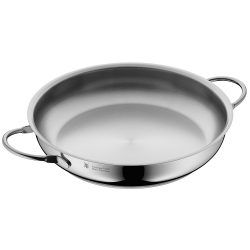 Ah! Of course, you can also put it in the oven without any problem. Withstands up to 250ºC, so you can start a recipe on the glass ceramic and finish it with an exquisite gratin or poached in the oven.
The material of this WMF Profi frying pan has a drawback, and it is its weight (around 1.5 kg). Stainless steel is heavier than an aluminum skillet, hands down. Although it does not weigh as much as an iron skillet. We would say that it finds a balance between the lightness of aluminum pans (about 1 kg) and the robustness of iron pans, which can weigh up to 3 kg.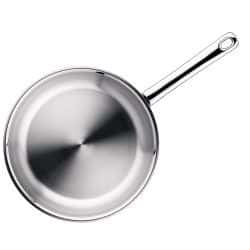 ANTI-ADHERENCE
The non-stickness of stainless steel pans is outstanding but requires a modicum of ' expertise '. They do not have a Teflon coating or other chemical compound like most pans to provide non-stickiness. They have nothing. The non-stickiness of these WMF pans is given by the surface of the pan together with the oil. What is the trick ?
There are people who complain that stainless steel pans are not as non-stick as they thought, and it is a mistake. The trick is not to start cooking until the oil is very hot. If you put the food when the oil is cold or slightly warm, it is very likely that it will stick. However, if the oil moves over the pan like water, the non-stick is ensured, as we will see in the video later.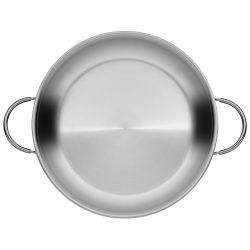 The great advantage of this is that you will not depend on a non-stick chemical and you will never have to worry about your health about PFOAS again. This skillet is free of all of that. In addition, you will have the certainty that the non-stick surface will never deteriorate no matter how badly you mistreat your pan.
In this video (from a private individual, not a corporate one), you can see how he cooks a fried egg with a ridiculous amount of oil. I tell you that it is simply spectacular.
WMF Profi 28公分平底鍋~煎蛋~
TECHNOLOGIES
Talking about WMF is talking about robustness, design and simplicity. You won't find bombastic names for awesome tech. They are pans made to last and for this they are extremely simple. And based on their century and a half of success, we can say that they are doing well. Let's see what these pans have:
Chromargan stainless steel : As we said, this chromed steel alloy is made up of 18% Chromium and 10% Nickel. The minimum to achieve stainless qualities is 12%, so the steel developed by WMF perfectly fulfills its mission. In addition, it has a more aesthetic than practical peculiarity, and that is that its polishing processis the best there is. A WMF Chromargan product shines brilliantly, and not only at the time of purchase, five years later after intensive use, it is still extraordinarily bright.
Transtherm base: This diffuser base, patented by WMF, saves time and money. On the one hand, it captures and transmits heat to the entire surface of the pan very quickly. Stainless steel is an excellent conductor, so the temperature will spread evenly over the entire surface of the pan. In addition, it retains heat very well, so in addition to needing less time to heat it, you can turn it off before finishing cooking, with the consequent energy savings.
BETWEEN YOU AND ME
This WMF Profi frying pan is an evolution within the WMF stainless steel range. After 160 years making pans and pots, the German firm has nothing more to prove. Its quality is more than proven and these Profi pans are no less.
Its price is proportional to its quality, but we are talking about pans that can last more than a decade. Conscious of their quality, WMF offers a 5-year guarantee on these pans.
They are of higher quality than many Teflon pans, but are more expensive. They are somewhat less versatile than Le Creuset cast iron pans, but they also cost half as much. We would say that these WMF Profi stainless steel pans are a middle ground between Teflon pans and iron pans.
PAN WITH A HANDLE
TWO-HANDLE PAN
ADVANTAGES OF THE WMF PROFI PAN
Without a doubt its robustness and durability. Built on a smooth surface, without screws and without non-stick surfaces.
Its non-stickiness when the oil is hot is outstanding. Chemical free.
Chromargan stainless steel is the best of WMF. It is very easy to clean and its polish is excellent.
DISADVANTAGES OF WMF PROFI PANS
Its price is higher than some Teflon pans
It requires a minimal learning process to detect when the oil is hot.
YOU MAY BE INTERESTED
If you are looking for a WMF stainless steel frying pan, but you are not convinced by this Profi model, we advise you to take a look at the WMF Favorit. It is one of the best sellers.
If you want to escape from chemical non-stick and are willing to invest something more, you can read the analysis of Le Creuset iron pans. These pans (although they are expensive) are the best you can buy.