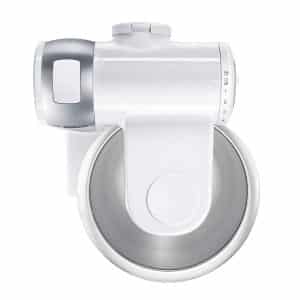 The veteran German brand Bosch, one of the most prestigious in the world in the manufacture of kitchen appliances, presents the Kitchen Robot MUM4880. Of the Bosch MUM4 series, this is the most complete model, as it has an impressive number of accessories, which allow to process all kinds of food. Currently, it is one of the most complete processors on the market, and it has a very reasonable price, given its many features.
This kitchen robot Mum4 Bosch , thanks to its many accessories, is able to squeeze, chop, grate, knead or beat, with very professional results, and with minimal effort in the kitchen. For fans of home processing all kinds of food, this robot is one of the most recommended for purchase.
Ranking Top3 Best Kitchen Robots
Materials
The main accessories are made of stainless steel, which guarantees its great durability over time and its great resistance to continuous use.
Capacity and power
It has a steel mixing bowl, with a capacity of 3.9 liters, enough for up to 2 kg. of dough, and a 1-liter blender jug .
The motor of this Bosch Mum4 kitchen robot has a power of 600W, perfect for processing all kinds of food, in relation to the functions available to the robot. In addition, its multifunction arm with three actuation points is capable of enhancing the power of the engine.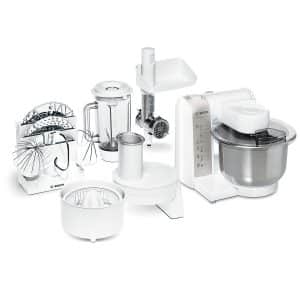 Features of the Bosch MUM4 Food Processor
Multifunction robot with a wide versatility thanks to a cutting set, with three discs for cutting and grating; its kneading set, with a dough hook, a beater rod and a mixer; its glass blender with a capacity of one liter; and a juicer.
Possibility of expanding the functions of the robot with additional accessories: a refrigerator, an accessory for stuffing, a grinder, and an accessory for making cookies.

It has four operating positions.

Thanks to its Mutimotion Drive function , with a planetary rotary movement in three dimensions, mixing is perfect. Its hooks and rods rotate without leaving any ingredient unworked, and leaving a dough with a homogeneous texture.
It is

a very intuitive and easy-to-use robot. In addition, its cleaning is very easy, since all its accessories are dishwasher safe.
It has multiple security systems, among which the following stand out: a protection system against heating, a safety closure system for the mixing container and an additional latch on the accessories, among others.

Great stability, as it has non-slip rubber feet. The robot will not move while it works.

Automatic cable collection system.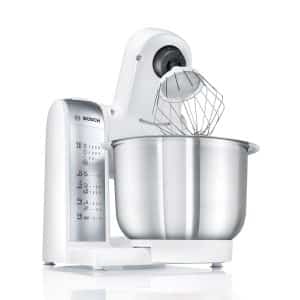 Advantages of the Bosch MUM4 Food processor
The simplicity in its assembly and use, make the Bosch MUM4880 kitchen robot suitable for any level of knowledge in the kitchen.

It has multiple functions : you can make doughs for pizza, bread and biscuits thanks to its kneading set; and you can make smothies, or shakes, thanks to its mixer.
The Multimotion Drive system, with planetary movement, is one of its main advantages, since it guarantees a perfect homogenization of any food, and that nothing is stuck in the container.

For fans of making other types of products, the included accessories can be expanded with a grinder, an accessory for making cookies, for stuffing or a refrigerator.

Its multiple safety systems and its great stabilization, thanks to its rubber feet, makes it a safe robot in daily use, perfect for families with children.

Given its multiple features, it is one of the most affordable robots on the market, and from the brand itself. It is priced in the middle of all food-processing kitchen robots. And the guarantee of a manufacturer as prestigious as Bosch.

Easy to store cutting and kneading accessories, thanks to its support, included among the accessories. This bracket is suitable for wall mounting, so that accessories are always at hand.

All accessories are dishwasher safe, which facilitates their daily use without having to resort to manual washing.
Disadvantages of the Bosch MUM4 Food processor
The only disadvantage detected is its power, 600W. It is perfect for all the food processor functions of this robot, although if you plan to use it very frequently to process heavier doughs, it would be convenient to look for a food processor robot that has more power.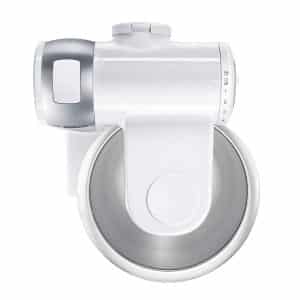 Between you and me
The Food Processor Bosch MUM4880 is a food processor very complete, and highly professional. It is a robot designed for those who are most fond of processing food at home, and making dough for all kinds of recipes: pizzas, pastries, cakes, crepes, etc., thanks to its complete pastry set. In addition, this robot is capable of chopping, grating, whipping and squeezing, and offers the possibility of buying more accessories such as the refrigerator or the accessory for cookies. Given its multiple functions, it is one of the most economically priced robots on the market and one of the most efficient. One of its star features is the Multimotion Drive , which due to its planetary rotary movement, will be able to obtain a homogeneous mass without anything sticking to the container.
Maybe you are interested
If the Bosch MUM4880 Kitchen Robot is not what you were looking for, you may be interested in taking a look at the superior model, the Bosch MUM5 Creation Line Kitchen Robot, perfect for processing all kinds of food, and especially for preparing the most exquisite recipes. of pastries. With 7 speed settings, it has functions of mixer, chopper and mixer, among others. Its power is 1000 W, with a powerful motor capable of processing all kinds of food.
In addition, it contains a complete pastry set, for those who are more fond of preparing sweet recipes. This robot also offers the possibility of expanding accessories, such as the refrigerator, the juicer, and the meat grinder. Its security measures are also multiple, and it has an automatic cable collection system. And dishwasher-safe accessories.