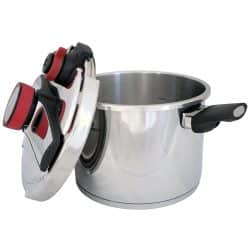 To cook at home, we not only need to have at least a little creativity. We also need the right utensils, such as pots. The Bergner Home brand, which has been developing kitchen products for 20 years, offers us a pressure cooker. This, under the name Bergner Capri, is the one that we will present to you below.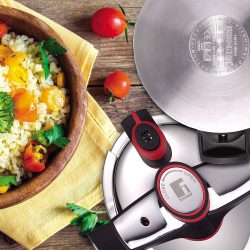 Bergner's Capri pressure cooker has a large capacity to meet the expectations of all customers. It has a range of 4 and 6 liters available, to cook any recipe you want for your guests. In conclusion, being a fast pot and with a sufficient capacity of liters, you can save time and money.
As always, we leave you with a short video :
CAPRI Pressure Cooker by Bergner – Beef Cheeks cooked in white wine (Spanish)
Materials
As we mentioned, the Capri by Bergner is a pressure cooker and it is made with materials for long-term use. It is built in stainless steel of the best quality, 18/10, where, in addition, it has a thickness of 1 mm.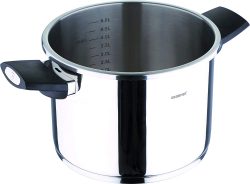 Compatibility
One of the most important points when we are going to buy pressure cookers for our home is their compatibility. In the case of the Bergner Capri, this is a pot that is built to meet everyone's needs; it is suitable for all types of cookers including induction ones. Also, only the body of the pot can be washed in the dishwasher.
This without a doubt, is something really positive. We can transport the pot and use it in different kitchens without problems ; We may change our kitchen or our house and even then we can continue to use it because of its compatibility in all types of fires. As we mentioned earlier, you should keep in mind that only the body of the Bergner Capri under pressure is dishwasher-safe. You should wash the lid in the sink.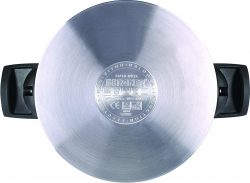 Main features
1-. The Bergner Capri pressure cooker has three safety systems : A pot opening locking system . And two systems for regulating the pressure of the pot.
two-. As for the opening system, it is a bridge system. This means that the opening is through a multiple turn of the pot knob. Together, it has an ease to open the pot without using both hands, with just one hand.
3-. This Bergner Capri pot also has a valve that will help us regulate the pressure with two predefined levels. Level I which is low with a pressure of 60kPa. And level II with a pressure of 100 kPa. In addition, it has an excellent depressurization system for our kitchens and safety.
4-. As we mentioned before, this pressure cooker has two capacities available; 4 and 6 liters. These are capacities suitable for an entire family of four to five people. You just have to define which one best suits your needs.
5-. Finally, among the most innovative features of this pot, we have that it complies with all safety regulations. It was tested by experts to ensure maximum user safety.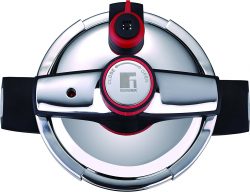 Between you and me
The Bergner Capri is a pressure cooker that many like and with a very competitive price on the market. We must take into account their characteristics to be able to define if they are suitable for our needs. On the other hand, it is a pot that guarantees total safety when being used ; so you will not have any problem if you do not have enough experience with this type of pots or even in the kitchen.
Keep in mind that it is very important that we pay attention to the compatibility of the products we use in the kitchen. This is beneficial because in this way it will guarantee that we will have a product that we will use for a long time ; even if we change house or kitchen. In addition, it is a great option if we must lend our pot to a friend or family member.
Advantages of the Bergner Capri pressure cooker
1-. One of the main advantages that the Bergner Capri pot offers us is that it gives us two volumes to choose from. Which will allow us to choose the one that best suits our needs and our lifestyle.
two-. It is made of 18/10 stainless steel. This will guarantee that we will have a product that will not rust or stain from being washed. The best thing about this is that the Bergner Capri pot will be with us for a long time, guaranteeing fidelity and performance.
3-. On the other hand, we have the security systems of this pot, which are nothing more and nothing less than 3. Which shows us that at Bergner the main thing is its customers and that even if we don't know how to use these pots, we will be safe.
4-. Being so easy to use, this pot will allow us to open it with one hand, avoiding great efforts. In addition, your pressure valves will guarantee us that we have the best in safety.
5-. Finally, we cannot stop talking about its design; This is simple and classic, which will favor us, as it will not go out of style over time.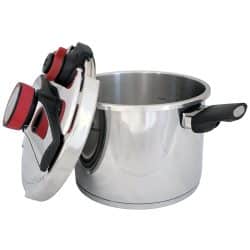 Disadvantages of the Bergner Capri pot
If we have to mention some drawback of this pot, it may be that it sometimes expels a lot of steam. However, this is very simple to solve, all we have to do is change the tires and that's it. Spare parts for this pot are easy to find and are also very inexpensive.
Maybe you are interested
If you have not been completely convinced that what you need in your home is the Bergner Capri; we present another option for you and your family. The other option that we present to you is the AmazonBasics Pressure Cooker. This is an inexpensive one that fulfills many positive functions .
It is available in 4 and 6 liter capacities, just like the Bergner Capri. Likewise, it complies with all security systems on the market and is compatible with all types of kitchens and dishwashers.
The AmazonBasics has two cooking levels, one for vegetables and foods that are easier and faster to cook; and another for meats and fish that can take longer. This is great for people who are just getting started in the kitchen and need more guidance.