Mixer
Moulinex Infinity Force Ultimate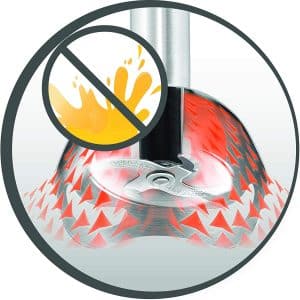 The blender is, without a doubt, an essential in our kitchen. Thanks to the innovation that technologies bring to household appliances, blenders are a true kitchen helper, being able to beat different textures, chop, grate, whip … and many other features. Moulinex Infinity Force Ultimate Cocktail is one of the most sophisticated mixers on the market, due to its many features and the highest power of all Moulinex models, a true gem!
The French brand Moulinex does not need many introductions. Leader in the manufacture of small electrical appliances, it is one of the most established and veteran companies in the market. With more than 80 years of experience, its kitchen and home appliances never cease to amaze because they are always at the forefront of product quality, coupled with the versatility and excellent performance of all its appliances. As always, Moulinex sets the trend.
Capacity, Power and Speeds
Moulinex Infinity Force has a glass with a capacity of 800 ml. and a power of 1,000W, which makes it the most powerful mixer in the Moulinex range. It also incorporates a 500 ml chopping glass. Its power is perfect to carry out all its functions as a mixer and mincer, with no less than 25 speeds!

Main Features of the Moulinex Infinity Force Ultimate Cocktail blender
The Moulinex Infinity Force Ultimate Cocktail blender is a practical all-terrain hand blender, with 25 speeds and made of high quality stainless steel. Among its main characteristics, the most notable are the following:
Innovative Actiflow technology with 4 anti-jam blades, which work as follows: two straight interiors for extreme shaking, and 2 curved interiors for optimal grip.
It has a panel of adjustable modes, with 25 speeds and turbo for better results of fast and efficient blending to one hundred percent. There will be no pieces or lumps, and the textures will always be perfect and according to each food we want to work with.
It has an ergonomic handle for a secure grip, and a soft coating for greater comfort in use.
It contains the following accessories: 800 ml measuring cup, 500 ml miniature chopper with non-slip base, beater rod to assemble, and a highly resistant saw blade to crush ice.
It has protection against splashes, to guarantee maximum cleanliness in use.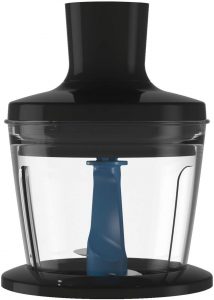 Advantages of the Moulinex Infinity Force Ultimate Cocktail blender
For continuous and efficient use, the Moulinex Infinity Force Ultimate Cocktail blender is a true luxury. It is a very powerful blender that can perfectly perform many functions: chopping even the toughest products such as ice or dried fruits, whipping purees, making shakes and smoothies, whipping whites for desserts, and everything we can think of and that we need in our day to day. Its main advantages include the following:
Its 25 speeds and its Turbo function facilitate total control of the speed and power of the mixer, to beat and chop the most difficult ingredients at the desired point.
It has a splash guard to ensure maximum safety in the kitchen.
Its ergonomic grip is comfortable, with a soft coating, perfect for using the mixer without punishing our hands.
Thanks to the accessories it includes, such as the mincer or the rods, we can grate bread for domestic use, beat eggs, fruits, whip cream to the point of snow, even with its powerful blades, professionally chop ice.
One of the main advantages of this blender is its Actiflow technology, which avoids those cumbersome jams in the blades when we are mixing or chopping some food.
It is a fast and efficient mixer. In a few minutes we can have a whipped cream ready, or whites to the point of snow, or a minced meat to perfection. Simply select the desired speed, use the appropriate accessories and voila!
The body of the mixer, and its accessories, including the blades, are very easy to clean and maintain.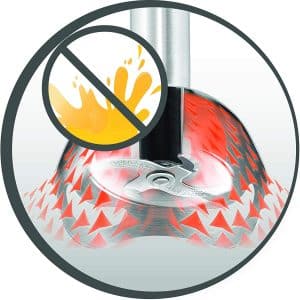 Disadvantages of the Moulinex Infinity Force Ultimate Cocktail blender
No notable drawbacks have been detected in this blender model, except that you have to invest a little more if we want a versatile and powerful blender. For the rest, it is the perfect blender, not being excessively expensive, but not one of the most economical in the Moulinex range.
Between you and me
The
Moulinex Infinity Force Ultimate Cocktail
blender is highly recommended for its ease of use, the high quality of its manufacturing materials, and its versatility. But, above all, because it is very powerful and the speed is controlled very well.
It is perfect for those who need to use auxiliary kitchen tools to blend, whip, chop or grate, always obtaining the best results. In addition, the pack of accessories that it includes are very useful for processing all kinds of food, before cooking.
Your miniature mincer to mince meat, nuts, bread … just right; its whisk to whip cream or whites to the point of snow and make spongy cakes, and its powerful blades, which can
chop the toughest
and
most
difficult
foods
, even ice, without the least effort and to perfection.
It should be noted that its Actiflow technology is perfect for not wasting time with eternal food jams on the blades. This new technology is very practical to use the mixer on a daily basis and without interruptions during work to clean the blades.
Maybe you are interested
If the Moulinex Infinity Force Ultimate Cocktail blender is not what you are looking for, and you prefer a glass blender, then the Moulinex Perfect Mix blender is a highly recommended option to consider. This powerful blender has a 1200 motor and a 2 liter glass bowl capacity. It applies Powelix technology, with 4 oversized blades for flawless food mixing, adding speed to the mixing and blending process.
It has a speed selector and three programs, a manual mode, and an autoclean system. For those who are better at handling glass blenders, this blender is very professional. In addition, like all Moulinex appliances, it is made of high-quality glass and stainless steel, which ensures a long useful life for this appliance, due to its great resistance to use.