Mixer
Moulinex Perfect Mix +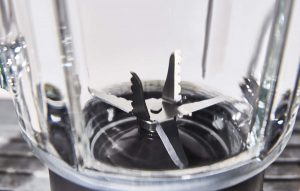 Mixers are an essential item in the kitchen. Whether by arm or by glass, they are essential for blending various types of food quickly, efficiently and without complications. If what gives you the best results are glass blenders, don't think twice! because Moulinex Perfect Mix + is a great choice. With great engine power and resistant finishes, a Moulinex quality guarantee, you will get the best and most homogeneous shakes, purees, creams, even chopping harder elements such as ice.
The French firm Moulinex, a pioneer in Europe in the manufacture of kitchen appliances, has a very complete range of glass or arm mixers adapted to all the needs of the most cooks in the house. Specialized in small household appliances, its practical mixers, of either of the two models, never disappoint.
Capacity and power
The Moulinex Perfect Mix + blender has a glass bowl with a large capacity, no less than 2 liters, and it is very powerful, as it has a 1,200W motor .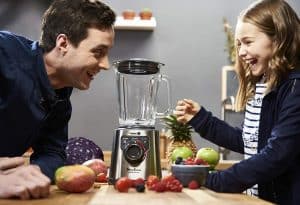 Main features of the Moulinex Perfect Mix + blender
The Moulinex Perfect Mix + blender brings together a series of technical characteristics that make it a versatile and powerful blender, and an essential in the kitchen. Among the main ones, the following stand out:
Powelix technology, with four large mixing blades, with perfect texture results, and a 30% faster operation, thanks to this technology and the power of its motor.
It incorporates an air cooling system, to facilitate a safe operation of the mixer, since possible overheating of the motor, and unexpected stops are avoided.
It has 3 different programs on its panel: smoothie, autoclean and ice crush (shake, automatic cleaning and ice crushing).
Possibility of controlling the shake manually.
It has 2 blades facing up to avoid jams and beat with a cyclonic effect, dragging the ingredients towards them; and another 2 blades oriented towards the bottom, to avoid pieces remaining at the bottom of the glass without beating.
Includes a spatula to mix food.
The glass is made of glass, and its exterior finishes are made of high quality stainless steel.
Tripl'Ax technology, exclusive to this model, which combines its six total blades to perfection, since each pair of them develops a complementary action from the other, to blend the ingredients without leaving chunks and to the desired texture.
The blades are detachable, removable and easy to clean, just like your glass.
It has a cable storage system.
Has a protective cap to prevent splashing
Its base plates are designed to be waterproof, they do not spoil
All its manufacturing materials are BPA-free, for one hundred percent safe handling.
Its components are dishwasher safe.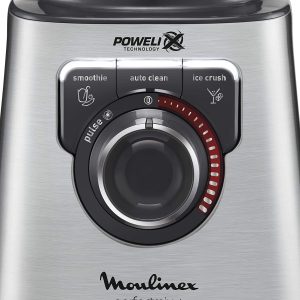 Advantages of the Moulinex Perfect Mix + blender
Having a powerful and easy-to-use mixer is already a great advantage. And in the case of the Moulinex Perfect Mix + blender, its greatest advantage is its simplicity in use and its practicality. Its main advantages include the following:
Its motor is very powerful, has 1200W and can beat even the toughest foods.
With its powerful stainless steel blades, you can blend all kinds of food safely and efficiently.
Its anti-heating security system stands out, consisting of air cooling of the engine.
It is very easy to use, as it has three fully automatic programs for different types of processing, ice crushing and automatic cleaning.
It has a very intuitive illuminated panel: the intensity of the light varies depending on the speed
It is easy to clean, and your glass is dishwasher safe
Its Tripl'Ax technology is very effective, since its pairs of blades develop different blending activities, so that all foods are well beaten, and without chunks. The textures will always be homogeneous.
Its manufacturing materials are of high quality and very resistant to continuous use.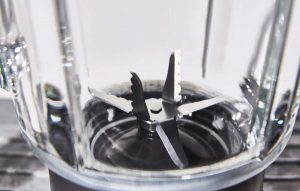 Disadvantages of the Moulinex Perfect Mix + blender
No type of problem has been detected in this blender, except that it is somewhat noisy, although it is a fairly common feature in glass blenders. Otherwise it is powerful, efficient and very easy to handle.
Between you and me
The mixer Moulinex Perfect Mix + is the perfect mixer for daily use in the kitchen. It has excellent power, is very easy to use and is very easy to clean. It is only necessary to choose one of your programs and select the speed of rotation of your blades. You can mix everything from the softest to the most difficult foods without any difficulty and with great results in texture.
It is a mixer designed for continuous use, as it has a variety of features: it can blend, chop and assemble with different textures and thicknesses. It is solid and very resistant, and highlights its easy handling. Its air ventilation system is also very important, which prevents the motor from overheating, in order to be able to process food safely. It is worth noting the great power of its motor, designed to beat from the softest to the hardest foods, it can even crush ice to perfection. It is, without a doubt, one of the brand's all-terrain mixers.
Maybe you are interested
If the Moulinex Perfect Mix + blender does not suit your needs, and you prefer an arm blender, you may be interested in taking a look at the Moulinex Infinity Force Ultimate Cocktail blender . Like all of the Moulinex range, its most outstanding hallmarks are resistance, power and ease of use.
It has a panel of adjustable modes with 25 speeds and turbo, achieving a fast and efficient shake of a great variety of foods in a homogeneous way and with different texts. Its panel is adjustable, and its blades have an innovative Actiflo w technology to avoid the annoying jams that usually occur when we whisk, and certain foods get stuck to the blades. It also includes a measuring cup, a mini chopper, a mixer rod to assemble, and has anti-splash protection.