Mixer
Moulinex Smoothie and Twist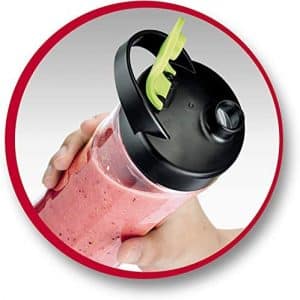 Among the Moulinex glass blenders, the Moulinex Smoothie & Twist is the perfect tool to have our smoothies ready to go anywhere in the blink of an eye. This small and light blender, blends directly in its transportable glass, is easy to clean and is made of a BPA-free plastic and premium stainless steel, to ensure its resistance and durability over time.
Moulinex is a well-known brand, a guarantee of trust and quality every time we buy a kitchen appliance. Designed to last over time and function perfectly, Moulinex appliances are always innovative, practical, versatile, and very easy to use. And as if this were not enough, we must not lose sight of their excellent prices! no matter which mixer we choose, the value for money is always one of its strong points.
Capacity, Power and Speeds
The Smoothie & Twist blender has a power of 300W, enough to perfectly blend smoothies and fruit shakes, and the capacity of its individual glass, to blend directly, is 600ml, for a generous portion of smoothie to go. It has a speed to beat, pressing the top.
Features of the Moulinex Smoothie & Twist Blender
The Moulinex Smoothie & Twist blender is a blender conceived and designed to make individual smoothies in a practical and easy way, and with the best results. Small and handy, these are its main features:
It has a power of 300W, and has an individual glass to mix directly, and that has a capacity of 600 ml.
The glass lid is easy to open to drink, and it has a practical handle to transport it away from home safely and without spilling anything.
The body of the blender is made from premium stainless steel, high quality, and very resistant to daily use
Your individual glass is made from BPA-free materials, and both this container and its lid are dishwasher safe.
The mixer has 4 stainless steel blades
It works with three simple steps : fill the glass with ingredients; whisk (for this you just have to press the top of the bottle, and voila! the blades will start); remove the blade holder, and cover the glass.
The glass has a carrying handle, so that it can be carried anywhere directly by hand
Includes a cleaner for food debris caught between the blades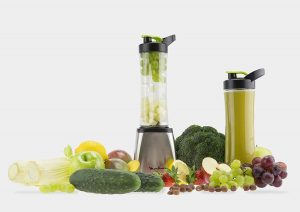 Advantages of the Moulinex Smoothie & Twist Blender
If what we are looking for is a mixer with enough power to beat individual servings of shake in record time, this is exactly a great purchase choice! The Moulinex Smoothie & Twist blender is designed so that we have our best preparations ready to go quickly and with only three steps. These are its main advantages:
With just 3 steps we can have our shakes and smoothies ready to go! : we introduce the food, beat, press the top of the bottle, remove the blade holder and that's it! We only have to put the lid on.
It is a very useful blender for making daily shakes, because they are made in the bottle itself, and you just need to add it, remove the glass and cover it.
Its bottle is very practical, and is designed to be easily transported, thanks to its lid with a carrying handle, and an opening, also with a lid, to drink the shake.
It is a light and compact mixer, and very easy to clean. In addition to its materials being resistant and dishwasher safe, it includes an extra cleaner to clean residue from the blades
Being light and compact in size, not only the glass is transportable, but also the blender. It fits anywhere and we can take it outside the home on our trips.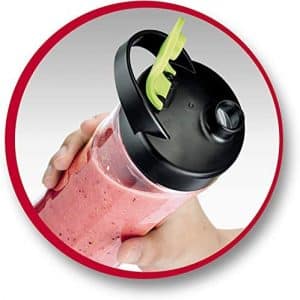 Disadvantages of the Moulinex Smoothie & Twist Blender
Although it is not a drawback, it must be borne in mind that this blender is designed for small quantities, and that it has just the right power for its 600ml glass. It is, therefore, a very basic blender with a small capacity, very designed for individual shakes and smoothies, an aspect to take into account when choosing a blender.
Between you and me
If we are looking for a small blender, a just power for smoothies, this is a great purchase option. In addition, not many models can boast of having a transportable glass in which it can be directly mixed! a real find for those who want to take their smoothies and natural shakes anywhere: to the gym, to the office, to enjoy them away from home … nothing better than the Smoothie & Twist blender, practical, comfortable, and for a totally individualized service.
Like all Moulinex models, it is made of high quality materials, among which its premium stainless steel finishes stand out, which are more resistant to continuous use. It is one of the cheapest blenders in the Moulinex range, and for those who want to enjoy a daily take-away shake, straight from the glass, it is the perfect choice.
Maybe you are interested
If you are thinking of buying a small and handy blender and the Moulinex Smoothie & Twist blender is not what you were looking for, you may be interested in taking a look at the Moulinex Blend & Go blender , a fairly similar model, with similar performance and power. This blender also has a 1.3 liter main glass and a practical 750 ml plastic bottle, also to take away.
Its accessories, including the 4 stainless steel blades, are suitable for the dishwasher, and it has a single button to control the shake, for easy and efficient use. Its blades are easily removable, for greater safety and convenience in cleaning.
In addition to being a practical, compact and manageable glass blender, we can choose to use the main glass, or to use its bottle to go. It has an excellent value for money, and it is also a simple blender, although due to the capacity of its glass, we can prepare larger portions to share, or to store.