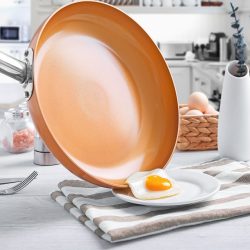 There are many of you who ask us about Deik Pans . Of course, it is a set of frying pans that causes as much expectation as doubts. They are novel, different and eye-catching. But to see if it is really worth it we have to analyze them more in depth; All that glitters is not always gold.
Among its range, we can find today three models of Deik pans: aluminum, stainless steel and Titanium. What is the most recommended? Let's see.
DEIK COPPER PAN
In the first place, the aluminum ones can make us believe that we are looking at copper pans. The color of the Deik pan makes us automatically think of that material. However, we already told you, they are not made of copper. But they have many surprises in store for us, some of them really positive.
DEIK ALUMINUM PAN
And the Deik family of frying pans is closed by the Deik Aluminum frying pan . This is an aluminum skillet but instead of just having the non-stick coating exposed, it is coated with Xylan Plus. This material acts as a "shield" above the pan, providing additional protection. The Deik Aluminum is perfect for the most intensive ones who want additional resistance.
MATERIALS
To make the Deik frying pan , the manufacturer turned to one of the lightest materials available, aluminum. Thus, although outwardly they look like copper pans, they are not. And really, they better not be. Aluminum is an excellent material in terms of strength, durability and especially lightness.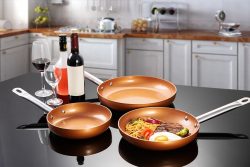 The handle, however, has been endowed with an even more resistant material: stainless steel. Furthermore, the handle is attached to the body of the Deik pan by two powerful rivets. Thus, the resistance of stainless steel together with its strong union with the body with two rivets, guarantee us outstanding durability.And finally, the bottom of the Deik pans is also made of stainless steel. They do this for three fundamental reasons:
Provide them with greater resistance in the part that is usually hit frequently.
Guarantee a maximum and more efficient distribution of heat.
Allow full compatibility with all kitchens.
The Deik stainless steel pans , meanwhile, employ an alloy 18% chromium and 10% nickel. This is the safest and safest stainless steel alloy. In fact, this alloy is considered surgical steel.
It is heavier than an aluminum skillet, but it is infinitely more robust and durable.
COMPATIBILITY
As we said in the previous point, Deik pans have a base finished in stainless steel. This material ensures optimal compatibility with all types of kitchens. In this way, the Deik frying pan will work without problem in induction, glass-ceramic, gas or electric cookers .
On the other hand, it also comes out well in the dishwasher compatibility analysis . This pan is prepared so that you can put it in the dishwasher daily without fear of deterioration. It supports it perfectly.
And finally and really important for many, is the compatibility with the oven. He also approves it and with a note. Many pans cannot be placed in the oven. Others can be entered, but only up to 180ºC. This Deik frying pan can be placed in the oven until no less than 220ºC! Outstanding.
ANTI-ADHERENCE
This is the most important section for many, the ability of the pan to prepare any dish without the risk of food sticking. And this point has been the main claim of this model. Well, to begin with, we see that the non-stick surface is not "copper" as many think.
This is a standard non-stick surface but it works remarkably well. The manufacturer of the Deik pans has called it Fusion Tech. To the characteristics listed below, a Titanium coating should be added to the Deik Titanium pans.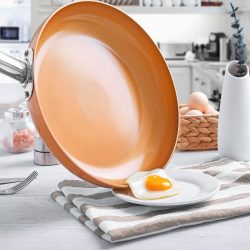 This non-stick that, as we say, is really effective, has few drawbacks and many advantages:
Pros:
It works extremely well and the non-stick is one of the best we can find.
It has non-stick not only on the inside, but also on the outside. This is very important because the food that jumps out of the pan will not stick in any case. It greatly facilitates cleaning.
It is totally free of toxins. It is a really harmless non-stick surface for health as it is free of PFOAs, PTFE, Lead and Cadmium. In that sense, a ten for the Deik pan.
Against:
If metal utensils or knives are used on the non-stick surface, it will be damaged and spoiled.
MAIN FEATURES
It is sold in a very complete set that sometimes includes a set of kitchen utensils.
In relation to quality / price, it is one of the best options on the market.
It has FDA certification (Food and Drug Administration of the United States government), which guarantees the total absence of toxic or dangerous agents for health.
The manufacturer offers a lifetime guarantee for these Deik pans.
The compatibility is absolute with all types of cookers and dishwashers.
You can finish the recipe in the oven up to 220ºC.
BETWEEN YOU AND ME
If you are concerned about your health and are looking for pans with extraordinary non-stickiness, this is one of the best options. However, you may be disappointed if you tend to use metal utensils on the pan. If your slotted spoon, ladle, or what you use for cooking is metal, you may spoil these pans.
If, on the other hand, you use silicone or wooden kitchen utensils, these Deik pans will last you half a life. In addition, you will have the peace of mind that you will be preparing food that is absolutely free of toxic or dangerous substances for health.
ADVANTAGES OF DEIK PAN
They have a lifetime warranty offered directly by the manufacturer.
The compatibility with induction cookers is total.
The non-stick surface is not only on the inside as in most. The outside of the Deik pan is also coated with the same non-stick, which makes cleaning extremely easy.
They can be put without any problem in the oven up to 220ºC and in the dishwasher.
They have the FDA certification of the United States. This is a rigorous certification that ensures and guarantees the absolute safety of the product.
It is free of PFOAS, PTFE, Cadmium and lead.
The chosen materials make it both light and resistant. The body is finished in aluminum and the most sensitive parts, such as the handle and the base, made of stainless steel.
And of course and most importantly, the non-stick is really amazing.
DISADVANTAGES OF DEIK PAN
It is not easy to find them in department stores. You have to resort to specialized stores or online channels.
The non-stick surface will spoil if we cut with the knife directly on the pan. Also if we use metal utensils to prepare food. Therefore, the ideal is to use wooden or silicone utensils.
YOU MAY BE INTERESTED
If for any reason you are not convinced by these Deik pans, we advise you to take a look at the ITSS4YOU pans . It is a stainless steel model at a similar price.
And on the other hand, the CookSmart Essential pans , instead of stainless steel, use aluminum. This material is lighter and more manageable, with a very good thermal conductivity.