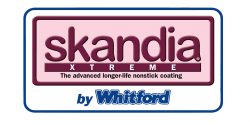 The San Ignacio firm, one of the best known in Spain, is in the process of renovation. In recent years it has stepped on the accelerator presenting new models and signing new commercial alliances. As a result of all this, we have a renewed family of pans, like these San Ignacio Gourmet.
With all this, we must say that the last San Ignacio pans launched on the market have improved a lot compared to those of 5 or 10 years ago. These San Ignacio Gourmet, for example, use third-party technologies to make them more durable and non-stick.
On the subject of prices, they have risen very slightly but they are better pans than before. However, even with the rise, the prices of San Ignacio pans are still significantly lower than those of their competition. Let's see it all.
MATERIALS
For the construction of these Gourmet de San Ignacio, the firm has chosen to use aluminum. This material is cheaper than stainless steel and also lighter. Aluminum in pans is highly conductive, so the temperature is distributed very quickly and evenly. It is a pressed aluminum that gives them remarkable strength and outstanding ergonomics.
In terms of ergonomics, the built-in handle helps enormously, which, although sometimes not very important, is essential. It is a Bakelite handle, made of a plastic material with a Soft-Touch finish. This is what comes to tell us is that we can handle the San Ignacio Gourmet with ease even with wet or dirty hands.

Although aesthetically the stainless steel handles are much more elegant, we always prefer those made of Bakelite or rubbery material. They are not as colorful as the stainless steel ones but the latter, if they do not have some rubber, will drain and are not very practical.
COMPATIBILITY
Regarding the compatibility of these pans, we can assure you that they are compatible with all types of cookers, including of course the latest induction cookers . There will be no need to add additional attachments, its integrated base is already prepared to work with this technology.
We can also put the Gourmet de San Ignacio in the dishwasher every day without fear of deterioration. They are 100% compatible.
Finally, in terms of ovens, the brand does not explicitly say that it is possible to put them in the oven. Therefore, and out of prudence, we would not risk doing it.
ANTI-ADHERENCE
In the non-stick section, San Ignacio has taken a step forward and has decided to use materials from one of the largest manufacturers of non-stick surfaces. The biggest is undoubtedly DuPont with its Teflon material. But we also have the American company WhitFord that makes the well-known Skandia surface.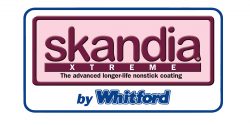 The Skandia non-stick surface used in these Gourmet de San Ignacio have a stone effect finish. Its non-stickiness is outstanding and nothing will stick to the pan as long as it is in good condition. And we say this because it is not coated with Titanium, so if we neglect them, it will not be difficult for us to spoil them.
If we use knives directly on the pan, or use metal cooking utensils on the Skandia surface, it will soon lose non-stickiness. Therefore, it is best to use wooden or silicone utensils and the pan will retain its non-stickness for many, many years.
The Skandia non-stick surface, of course, is made without using the controversial PFOAS.
SPECIAL FEATURES
Made in Italy: the fact that some pans are manufactured within the European Union is a guarantee of quality. We are not saying that Chinese-made pans are bad, but if we have a choice, we prefer European quality standards. And these San Ignacio Gourmet, come directly from Italy.
Lightened weight: the chosen materials, pressed aluminum, allow the total weight of these pans to be really reduced. Therefore, it will be really easy to manipulate the pan with one hand.
Ergonomic handle: something that many companies neglect and that others focus too much on aesthetics. San Ignacio preferred to make it practical and use a Soft-Touch Bakelite handle with a practical hanger.
Stone effect aesthetics : aesthetics are what we care about most in pans, but we must say that it is appreciated that they are beautiful. These San Ignacio Gourmet pans have a stone effect finish. Be careful, they are not stone pans as some people think (that would not be possible). It is simply an aesthetic coating that, why not say it, looks great on them.
BETWEEN YOU AND ME
The San Ignacio firm is always one of those with the longest history and tradition in our country. However, in recent years it had lagged somewhat behind its competitors. It is now when he has put the batteries, has been reborn and is launching very interesting news on the market.
The quality of the pans has also increased. The non-stick surfaces used in these latest models are of higher quality than those used in the past. Their prices, however, are still very affordable. They want to get back into the top positions and they want to do it in style.
ADVANTAGES OF SAN IGNACIO GOURMET PANS
They are very light and ergonomic
Its price is really affordable
They are made in Italy.
They are compatible with induction.
DISADVANTAGES OF THE SAN IGNACIO GOURMET PANS
They are not oven compatible.
The non-stick surface can be damaged if you use knives or metal utensils on the pan.
YOU MAY BE INTERESTED
If for whatever reason this pan has not convinced you, we advise you to take a look at another model. In a similar price range, you have the Castey Fundix skillet . It has the advantages that it is also compatible with ovens up to 250 ºC, its handle is removable and the non-stick surface is also Skandia.
And if you want strength and durability, we recommend that you take a look at a Titanium frying pan. We are sure that the price of a Titanium frying pan is lower than you imagine. For example, these Tefal Emotion with Titanium and suitable for oven, depending on the offers, it is possible to find them for the same price as the San Ignacio.