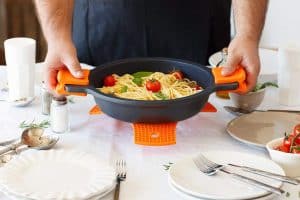 No more hassles and fears in the kitchen with the BRA Safe trivet . It is a highly innovative product due to its multiple 3-in-1 use. It is capable of protecting pans, it can be used as a magnetized trivet or simply function as a mitten.
In any case, its manufacture is intended to reduce the risks of accidents in the kitchen when transporting any item with high temperatures. In this way, the traditional company BRA, with more than five decades in the Spanish market, seeks to make people's cooking experience more practical .
This company has always been a special ally for all Spaniards in the culinary art. Year after year they seek to innovate with new products to continue being the family's favorite and to help them in those special moments that require an extraordinary dish.
Therefore, within its range of options there are some that apart from fulfilling an assistance function such as utensils, there are also those of protection and prevention. In this last area, this fabulous trivet comes into play , capable of being useful in various uses. Take note of its features and functions so that you do not have any doubts when purchasing it.
BRA Safe features
Each purchase pack comes with two units included.
Its shipping dimensions are 30 cm x 30 cm x 30 cm and a weight of 2 kg.
It has been available on Amazon for several years and remains one of the best sellers in its area today.
It is made of the highest quality silicone material available on the market.
It can be washed very easily and it is possible to do it in the dishwasher, so keeping it in good condition and clean will not involve great sacrifices.
It is capable of withstanding maximum temperatures of up to 250 degrees Celsius. This is a very important detail since it is directly linked to its main characteristic to protect people when transporting an excessively hot device.
It is available in the colors: red, green, lilac and orange. Even giving a personalized touch to the kitchen environment will be possible.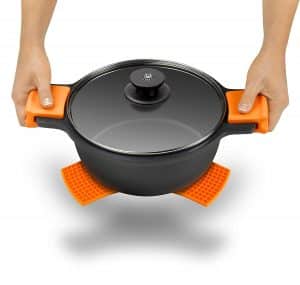 What is the BRA Safe trivet for?
If you need to transport pans, pots, pans or any other appliance that has a high temperature, the BRA Safe trivet will become your main ally from day to day. Gone are the risks of those countless common cases in the house where really unfortunate accidents happen. Zero burned hands, no water or food spilled on the various kitchen surfaces. With this sensational product you will be able to have the greatest of confidence to carry out the tasks that previously seemed risky to you.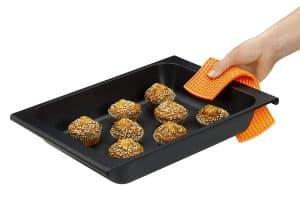 In the same way, it works as a separator thanks to its silicone material, which is why it protects the non-stick of all kitchen products. Pots, pots and pans will remain intact when stored in the place you have arranged.
In this way, it contributes directly to the conservation of all those items that are so necessary in people's daily lives when cooking. Apart from the care that we can give ourselves as individuals, we can also help ourselves with this magnificent product that BRA makes available to all of Spain and the rest of the world.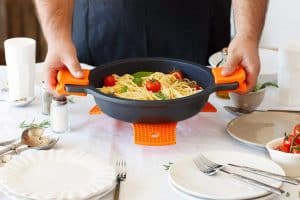 BRA Safe product quality
As its name in the English translation indicates, the main objective of the BRA Safe is to protect the safety in the kitchen of users. In that role, feedback is widely favorable across the various e-commerce platforms . The quality of this product goes hand in hand with that of all the other items manufactured by BRA, which has established itself as one of the leading brands in the industry throughout Spain.
For handling hot kitchen utensils there is nothing safer and more practical on the market than the Safe by BRA. That was one of the main headaches for all users, mainly beginners who still do not have the confidence within the kitchen developed to a good level. There is no doubt that what is most striking about this product is how practical it can be due to the various uses it can have. Best of all, is that it has a really affordable price when compared with all the benefits it offers.