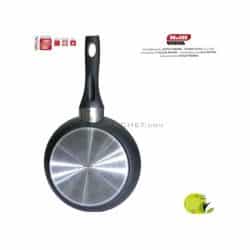 The Gipuzkoan firm Ibili has been offering us excellent quality utensils for our kitchen for more than 70 years. Therefore, every time a new frying pan is brought out, we can be sure that it will be a best seller, as is the case with the Ibili Natura that we analyze today, but is it worth it?
When we analyze a frying pan, the first thing we look at is the material in which it is made, its non-stick surface, its ergonomics and weight … And this Natura frying pan from Ibili passes in certain aspects and gets outstanding results in others. Let's go by parts.
We must say that Ibili, despite being close to turning 100, has a peculiarity and it is his very little investment in advertising. It is really difficult to find ad campaigns or videos of new products. What is your advertising then? The hundreds of comments from satisfied customers.
MATERIALS
For the manufacture of these Natura pans, Ibili entrusts everything to aluminum. This material is lighter than stainless steel and iron. As a positive point, the amount of aluminum they use is significant, reaching a surface area of ​​4mm and 5mm at the base.
This ensures that it will acquire the optimum temperature in less time and distribute the heat evenly over the entire surface. It is really important that the ends of the pan are at the same temperature as the center if you do not want to spoil a recipe, and this Ibili Natura pan does it.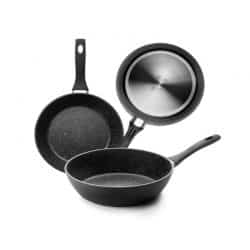 The aluminum for its part, makes these pans fully compatible with any type of kitchen. It will work without problems on induction, glass-ceramic, electric or gas hobs. And of course, you will not have to worry if you want to wash them in the dishwasher, as they will not spoil.
Regarding the handle of the Natura pans, it is built in antipyretic plastic and has a fairly successful ergonomics. It's pretty straightforward and not particularly attractive, but it's very practical for two reasons. On the one hand, it has a hanger that may seem silly, but at certain times it can be useful.
And secondly, the handle is screwed to the pan and not glued. This allows you to ensure a better grip and if at any time it becomes loose, tighten a little and that's it. It is easier to maintain than if it were attached.

ANTI-ADHERENCE
For this point, which is really important, Ibili Natura stands out from the majority and attends to the requests of its public. What is now in demand are healthy pans, free of PFOAS and chemicals. We want to cook healthy and avoid any harmful substances, that's why these Natura by Ibili have a stone-finished non-stick surface.
Aesthetically they are impeccable, with a really achieved natural finish. In any case, we should not think that its non-stick surface is made of stone. This is not the case, as the stone is not non-stick. It is a two-layer surface, similar to Teflon but free of any toxic substance and with a stone finish.
We must say that, in addition to being healthy, the Natura pan by Ibili is very non-stick. Of course, for it to last us in good condition we must avoid putting the knife in the pan to cut or use utensils or metal skimmers. Instead, silicone or wooden utensils will ensure the good condition of the nonstick for many years.

SPECIAL FEATURES
Very thick aluminum: the entire natura pan has a thickness of between 4 and 5 mm of aluminum, which facilitates the rapid acquisition of temperature and its homogeneous distribution.
Very light weight: we are talking about the fact that practically the entire collection weighs less than 1 kg. The 26 cm pan is around 900 grams, which is great for a pan of that diameter.
Easy Maintenance Ergonomic Handle – The fact that it is screwed in rather than attached makes things much easier. If in a few years it becomes loose, it can be easily tightened.
Free of toxic substances: Totally free of PFOAS and toxic substances that can be transferred to our food.
Height 4.5 cm: the Natura Ibili pan has a height of about 4.5 cm from the bottom to the top. It is not an excessively tall skillet. To cook WOK there are better options.
Induction Compatibility – You wo n't need any additional accessories to run this skillet on any induction cooker.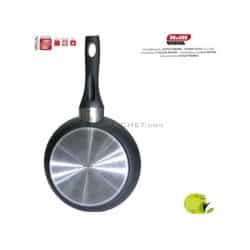 BETWEEN YOU AND ME
We are facing a mid-range frying pan with contained prices. We cannot compare these pans to other Premium pans that double in price. However, for the price range in which they move we consider that they have managed to create one of the best products in its category.
These Natura pans by Ibili are perfect for people who cook daily, who value above all the non-toxicity of their food and who, of course, are careful with their pans. If you avoid using metal utensils on the pan, you will have a healthy and durable pan for many years.
ALSO IBILI NATURA PAELLERA
We value very positively that brands offer us, in addition to pans, other products from the same family. The Ibili Natura paella pan is available in three sizes, 30, 34 and 38 centimeters and with a height of 5 cm. It has the same characteristics and advantages as those described for the pans.
ADVANTAGES OF THE IBILI NATURA
They are very light: we are talking about the larger diameter barely weighing 1 kg.
Economic: if we compare them with the pans of their competition, they are the most economical and some of the best in relation to quality / price.
They are healthy: they are free of PFOAS and any toxic compound.
Easy maintenance: its handle is designed to last many years and if it becomes loose, you can easily tighten it.
Compatibility: if you use induction or one day move to an induction floor, you can take your Natura frying pan with you. The same thing happens with the dishwasher, you can introduce them for your daily washing without problems
DISADVANTAGES OF THE IBILI NATURA
They require being careful, as the non-stick surface will lose effectiveness quickly if we damage it with utensils such as knives or metal skimmers.
YOU MAY BE INTERESTED
If you are looking for pans with similar characteristics, take a look at the Castey Fundix pans . They have a very similar price with some differences that may be advantages: removable handle, suitable for oven …
And if you don't mind increasing your budget slightly, for a little more we would already find the Swiss pans Kuhn Rikon Gourmet. They are manufactured in the Alpine country and have an extraordinary quality.