Tips
Typical dishes of Peru: history, characteristics and ingredients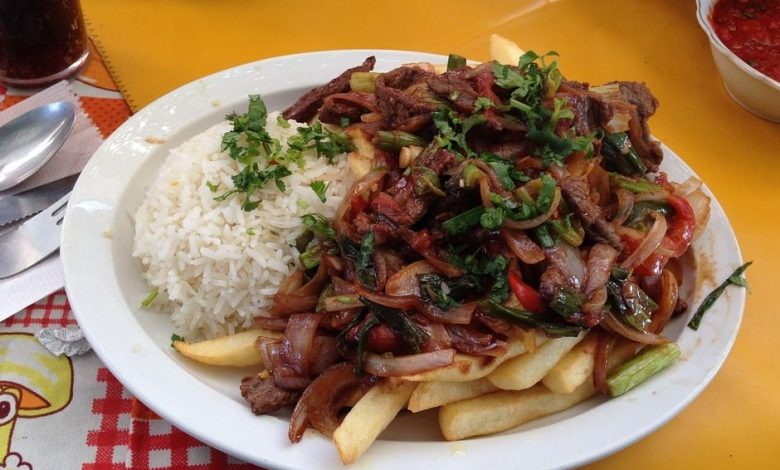 Typical dishes of Peru are many and very varied, current Peruvian cuisine can be described as a fusion cuisine, which combines flavors and techniques from four continents.
Given their history, Peruvians prepare and taste exquisite recipes that mix their ancestral cuisine, from pre-Columbian times, with the flavors that arrived in their territory with the Spanish conquest initially, and later with the wave of migrations from eastern cultures.
That said, Peruvian cuisine is distinguished by the development of gastronomic techniques resulting from its pre-Columbian cuisine and the influence of European, mainly Spanish, as well as African and Asian.
Characteristics of the Cuisine of Peru
The gastronomy of Peru is characterized by the use of a great variety of ingredients, both local products and elements adopted from other countries.
This country allows, with its diverse geography, the cultivation of various products. Among which stand out more than 2,500 variations of potatoes, at least 150 types of sweet potato, peppers of all kinds, lucuma, corn, quinoa, among many others.
Another particular characteristic of Peruvian cuisine is the facility it has to be influenced and inspired by recipes and culinary practices from other countries. Such is the case of Chinese and Japanese cuisine.
The fusion of Peruvian recipes with these is so well known that they even have their own name: Chifa cuisine and Nikkei cuisine, to review the marriage of each of them, respectively, with the Peruvian.
Regionally, the country has emblematic dishes depending on where you are. However, the flavors of the marine cuisine stand out with its famous ceviche, although the gastronomy of the Andean, jungle or Creole areas also have their distinctive culinary identity.
Typical Peruvian Dishes
Peru has a large number of typical dishes, some of the most popular are:
The Ají de Gallina
It fuses Spanish and Quechua ingredients, it is a thick cream, spicy in flavor, its base is shredded chicken and it is made with broth, milk, green chili and bread. It is customary to serve with rice and Peruvian potatoes, its decoration is made with lettuce, hard-boiled eggs and olives or olives. Its current variation uses chicken and bread.
The Anticuchos
They are a kind of beef heart skewers seasoned with ají panca, strung on cane sticks, served with a garnish of corn, chili and steamed or golden potatoes. They are generally accompanied by a drink made from purple corn, chicha morada.
The Chaufa Rice
This classic dish of gastronomy fuses Chinese and Peruvian cuisines, it is probably one of the most prepared and consumed daily recipes in the famous Chifas. Basically it is a mixture of fried rice, chopped beef or chicken, tortilla and soy sauce.
Peruvian Rice with Chicken
It is a Peruvian dish that has the influence of Spanish cuisine, given its similarity to the Valencian paella. In Ecuador there is a similar recipe, yellow rice, in Colombia it is called shredded rice with chicken and in Venezuela its variant is known simply by the name of arroz con pollo. The Peruvian is characterized by its green color since it is prepared with coriander, spinach, peas, chicken, it also has carrots. It is generally served with huancaína potatoes and garnished with onions.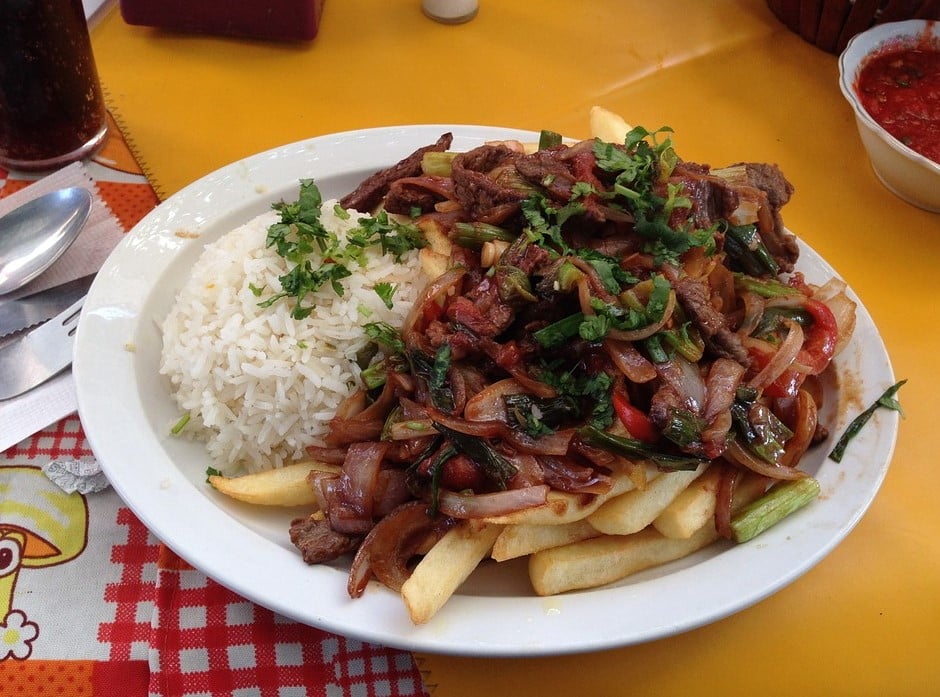 The Toasted Court
This recipe is preferentially prepared in the Andean region of Peru, as was customary in the 15th century, it is a garnish that consists of yellow corn roasted in a little hot oil, being well browned they are served by adding a little salt. It is customary to use it as a companion to ceviche.
La Carapulcra
This recipe is literally an international blend of flavors, using local, Chinese, Spanish, and Italian ingredients. It is a dish always present in celebrations. A stew with dried and boiled potatoes, with chicken or pork meat. It is seasoned with garlic, panca and mirasol peppers, noodles, cumin, tomato without skin and minced. Also with onions, cumin, basil, ground achiote, olive oil, parsley, boiled yucca and freshly roasted peanuts.
The Cau – Cau
In Spain they are the well-known tripe, in Latin America they are called menudo or pancita.It consists of a mixture of tripe in pieces and parboiled, yellow potatoes cut into small squares, cooked with garlic, onion, yellow pepper and parsley, this preparation is seasoned with toothpick and cumin. It is customary to decorate with parsley and accompany with a garnish of rice.
The Cause of Limeña
This pre-Columbian recipe consists mainly of Peruvian yellow potato with lettuce, boiled egg, avocado, crushed chili, black olives, and lemon. However, there are those who add mayonnaise or corn, others fill them with tuna or chicken. In this case, its name varies to Cause Stuffed with Tuna or Cause Stuffed with Chicken, respectively.
The Peruvian Ceviche
Seviche, Cebiche or ceviche, all the words are correctly written and refer to the most well-known dish of Peru in the whole world. It is a symbol of its culture and Cultural Heritage of the Nation. It is a dish based on chopped fish and shellfish cooked in lemon juice and accompanied by onion and chili. This is its most basic form, as it has multiple versions. It is customary to garnish with cilantro and serve with a garnish of yucca or sweet potato.
Shrimp Chupe
It is an exquisite shrimp and fish soup, it has Andean potatoes, coriander white cheese, eggs, corn, tomato, rice, onion, yellow pepper and flavored with oregano. It is a very versatile dish since it can be served as a starter or main course.
Other Typical Dishes of Peru
Of the infinity of dishes and recipes of Peruvian gastronomy, we can also mention:
Stuffed empanadas: baked with meat and vegetables.
The escabeche: a chicken-based dish that can be eaten hot or cold.
The sautéed loin: it is a recipe with a notorious oriental influence, when sautéing pieces of meat with vegetables seasoned with cumin and ajinomoto.
La pachamanca: It is one of the most traditional Peruvian recipes of all. Its cooking is particular, since it is done on hot stones placed on the ground, although currently it is also customary to cook it in pots.
Huancaína potatoes: well known for their characteristic sauce.
Other important typical dishes of Peru are: the stretcher, the stuffed rocoto, the tacocho with cesina, the Tacu – Tacu, the Peruvian Tamal, the Tiradito de Pescado, among many others.